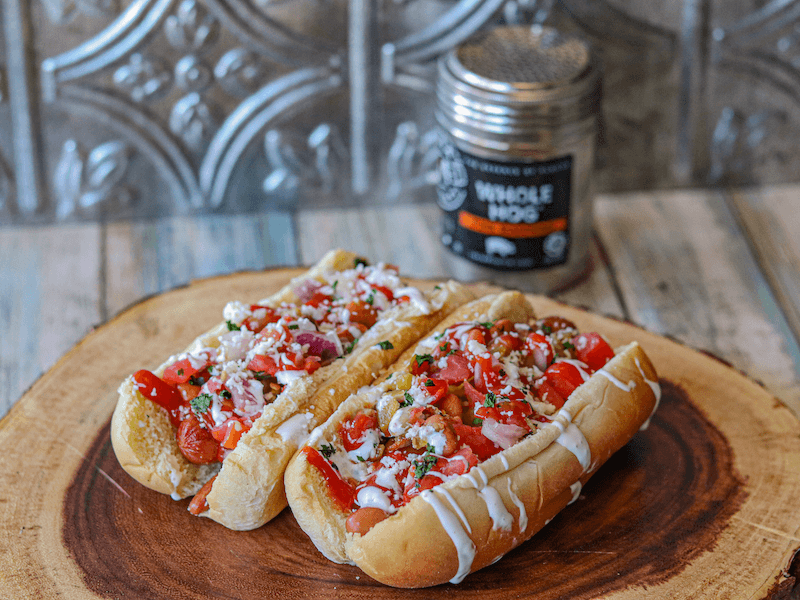 Casa M Sonoran Dogs
As always, from our table to yours... #SpiceConfidently #EssenceOfFlavor #ChemistryInTheKitchen #CasaMSpice


— Mike Hernandez
ingredients
For the Hot Dogs:
6 hot dogs
6 strips bacon, uncooked
6 hot dog buns
Ingredient 4
Pulling It All Together:
1 teaspoon Casa M Spice Co® Whole Hog®
1 cup pinto beans, cooked or canned, rinsed, dried, and warmed through
1/2 cup canned diced green chiles
1 cup pico de gallo
1/2 cup cotija cheese, crumbled
ketchup, Mexican crema, mayonnaise
top with diced cilantro, diced onions, and/or mustard (all optional)
LET'S GET COOKING
1.

Wrap each hot dog in one strip of bacon. Tuck in the ends.

2.

Season the bacon wrapped hot dogs liberally with Casa M Spice™️ Whole Hog® on both sides.

3.

Grill the wrapped hot hogs or cook them on a skillet. Make sure the bacon is cooked through and crispy. In the meantime, warm up the buns.

4.

Place the cooked hot dogs in their buns. Top with the beans, green chiles, ketchup, mayonnaise, pico de gallo, cotija cheese, Mexican crema, or your other preferred toppings.