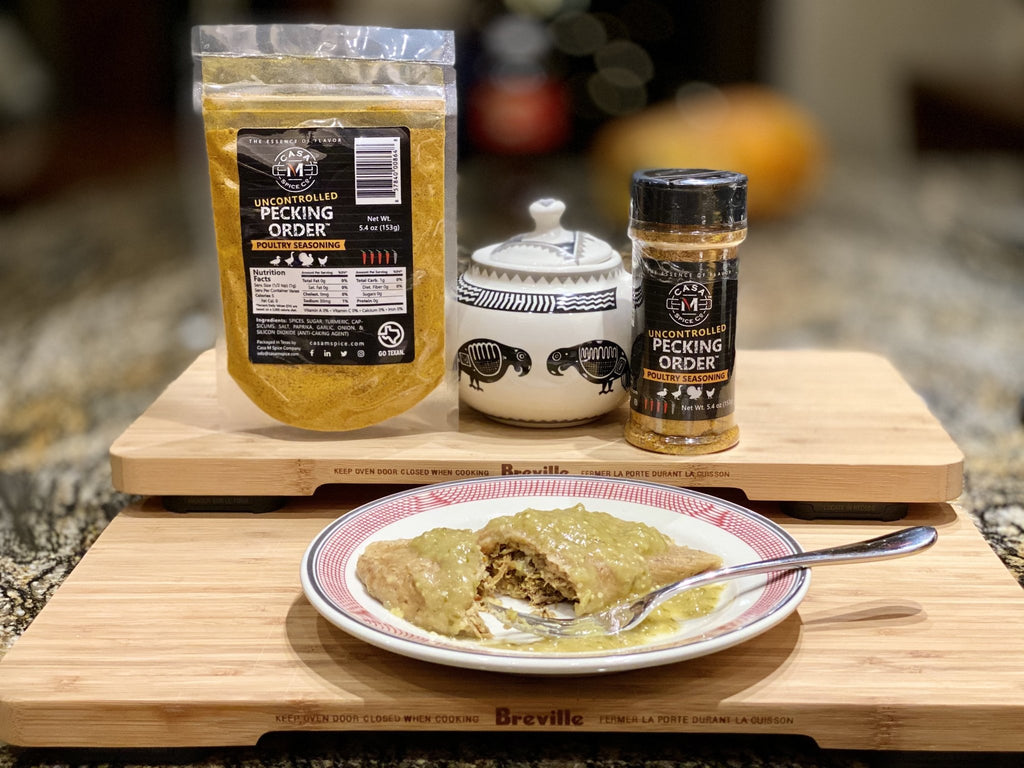 Casa M Ultimate Pork Tamales
There is a well established Mexican tradition of making tamales at Christmas. Manny and I have enjoyed it together for many years and somehow it never dawned on us to make our own and document a recipe for it. That has now changed! When we were down in Cozumel in the Fall this year, hurricane after hurricane after hurricane pelted us on the island and since the weather was uncooperative and we couldn't dive, we turned to the next best thing... cooking. We had an opportunity to lear to make tamales from two established master tamal makers, so who could pass that up? We volunteered to make the filling for traditional pork tamales. Understandably, the maestras were a little dubious since it strayed from their traditional preparation, but we assured them it would be be the best pork they'd had. By the time we were wrapping them, everyone was licking their fingers and stealing little pieces of pork stuffing intended to go into the tamales. Suffice it to say that the resulting tamales were well received. By all. In fact, our two teachers said these were the best pork tamales they'd ever had (even if they were non-traditional).
So there are challenges that come with making tamales in the US. In the border states we have it easy. We can easily get prepared masa at the Hispanic markets or even some restaurants will sell it. If you're in an area where it's not easy to get prepared masa (either warm or refrigerated), fear not, there are still two options, online Hispanic grocers will ship you prepared masa (and corn husks and a steamer if you need one) or you can resort to the "instant" masa in the form of something like a Maseca. The instant stuff isn't quite the same resulting masa when you're working the masa and spreading it, but it tastes very similar in the end. What is very important is getting true pork lard. It's important to the flavor, texture, and even the feel of the masa. We get it at the butcher counter at our local Hispanic market (La Azteca), but most butchers should be able to sell you rendered pork fat or, if not, they can sell you leaf lard that you can render. Soak the corn husk wrappers in warm water for at least 30 minutes before you wrap and drain them well. Honestly the tamale steamer is an awesome piece of gear and they're not expensive, but they are bulky. If you'd rather skip it, no problem, just make a make-shift steamer in a large stock pot with a metal colander inside it to support the stack of tamales.
As always, from our table to yours... #SpiceConfidently #EssenceOfFlavor #ChemistryInTheKitchen #CasaMSpice


— Mike Hernandez
ingredients
For the Salsa:
For the Masa:
5 pounds prepared masa (from a Hispanic market or restaurant or prepared from an instant masa like Maseca)
1 pound pork lard
juice from cooked pork (no more than 1 cup)
salt to taste
Pulling It All Together:
48 dried corn husks, soaked in warm water
4 pounds pork shoulder, cut into 1-2" strips
1 teaspoon salt
1/4 cup Casa M Spice Co® Pecking Order® or Uncontrolled Pecking Order®
FEATURED QUOTE
What is very important is getting true pork lard. It's important to the flavor, texture, and even the feel of the masa.
- Mike Hernandez
LET'S GET COOKING
1.

Put the pork into a slow cooker set to high. Season with salt and Casa M Spice Co® Pecking Order® and mix well. Cover the slow cooker and put a towel over it to help prevent steam from escaping. Cook for 4-6 hours until it is falling apart. Turn off the heat and remove the pork to a mixing bowl. Pull the pork. Drain excess liquid (up to 1 cup of liquid) and reserve for the masa. This can be prepared ahead and refrigerated.

2.

Prepare the Casa M Salsa Verde. Add the chicken base to the liquid in the pot when you steam the tomatillos. This can be prepared ahead and refrigerated or prepared as the tamales are steaming and served warm/hot, then refrigerated.

3.

Put the masa into the bowl of a mixer and add the pork lard and the juice from the cooked pork (up to 1 cup of liquid). Mix well. The "dough" should be smooth with no lumps. It should be a little "wet" but not too wet as to "stick" to your hands. If it needs more liquid use more of the juice from the pork or some warm tap water. When it is very smooth and supple, taste it and adjust salt to taste. It will brighten significantly as you add salt to taste.

4.

Pull a tamale wrapper (corn husk) out of the soaking bowl and lay it flat on a work surface. Using a spoon, scoop out a small amount of the masa and place it onto the wrapper. Spread it out evenly in a thin layer across the narrower end of the husk. Place some pulled pork stuffing into the middle (see photos). Pick up the husk and gently and carefully wrap the tamale, folding the wide end over once at the bottom, then place it into the tamale steamer (filled 1/2 way up to the platform on which the tamales will steam).

5.

Repeat this process for all your remaining masa and pork. We got 48 out of the 5 pounds of masa and 4 pounds of pork.

6.

Once the tamale steamer is packed, turn on the heat to get the water to a rolling boil. Cover the steamer and turn the heat down to medium (or less depending on your stove) to maintain a boil, but not an aggressive one where you're losing too much steam. Steam the tamales for 30 minutes after the lid is on the steamer, then remove one and carefully open to check to see if the masa has set. It should be set through where you can cut through it without it running or breaking. For us, we needed another 15 minutes to set it well for a total of 45 minutes of steaming, but don't stress if it takes a full hour. It will depend on how big your steamer is and how many tamales are getting steamed at once.

7.

When the tamales are fully set, remove them from the steamer onto a baking sheet and let them cool a little before turning them out and serving them. For those not eaten in that sitting, put cooled tamales in a zip top bag and refrigerate. They're good for a week in the refrigerator, but also freeze quite well.