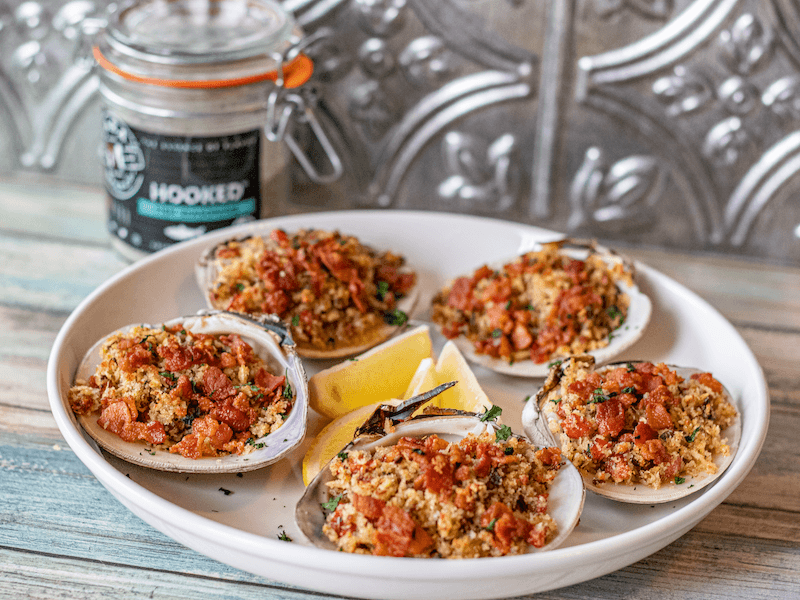 Clams Casino
As always, from our table to yours... #SpiceConfidently #EssenceOfFlavor #ChemistryInTheKitchen #CasaMSpice


— Mike Hernandez
ingredients
For the Clams:
4 slices bacon, cut into lardons
1/2 large yellow onion, diced
1/2 cup red bell pepper, chopped
4 Tablespoons butter
1 Tablespoon Casa M Spice Co® Hooked®
1/2 cup Panko bread crumbs
1/4 cup parmesan, grated
12 large Cherrystone clams
LET'S GET COOKING
1.

Preheat the oven to 450°F.

2.

Begin steaming the clams for about 5 to 7 minutes or until they have opened. Discard any that do not open.

3.

In a skillet, over medium high heat, cook the bacon and once it is cooked and lightly crispy, remove and set aside.

4.

In the same skillet, add the onion and red pepper. Cook for about 1 minute while stirring.

5.

Add Casa M Spice Co® Hooked®, stir, and add the butter and stir.

6.

Once butter is melted, turn off the heat.

7.

In a small bowl, combine the panko, cheese, and melted butter mixture. Make sure to mix thoroughly.

8.

Once clams are done, you can leave them as they are or remove the top half and discard.

9.

Arrange the clams on a baking sheet. Place a tbs or more of the panko mixture on each clam, and top with the bacon pieces.

10.

Bake for 5-8 minutes, or until the tops of the clams are golden brown. Remove from the oven and serve immediately!