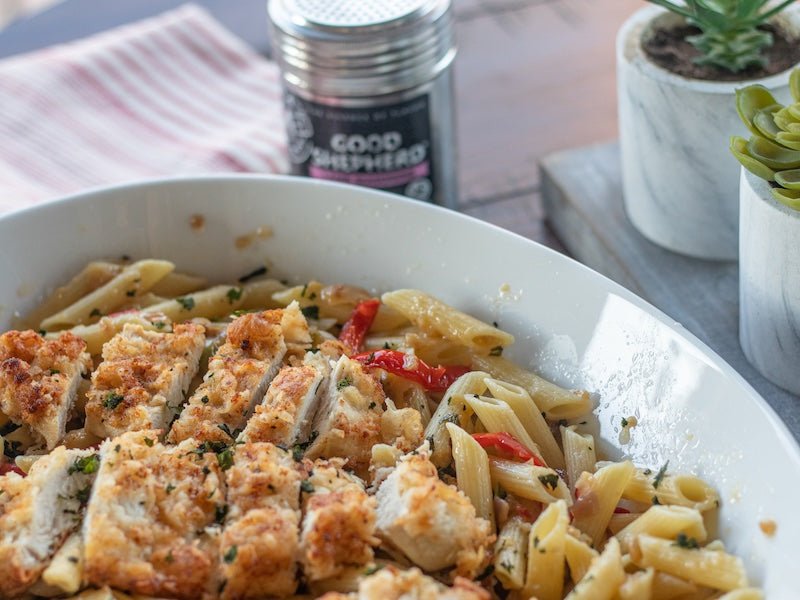 Good Shepherd Chicken Scampi
As always, from our table to yours... #SpiceConfidently #EssenceOfFlavor #ChemistryInTheKitchen #CasaMSpice
ingredients
For the chicken:
2 chicken breasts, sliced into 3 thin slices each
2 eggs
1/4 cup milk
1/4 cup flour, all-purpose
2 Tablespoons Casa M Spice Co® Good Shepherd®, divided
3 Tablespoons oil
Pulling It All Together:
1 box penee pasta
2 Tablespoons oil
1/4 cup onion, chopped
1/2 cup mushrooms, chopped
1/2 green pepper, sliced
1/2 red pepper, sliced
1 Tablespoon garlic, minced
1 Tablespoon Casa M Spice Co® Good Shepherd®
1/4 teaspoon oregano, ground
5 Tablespoons butter, unsalted
3/4 cup dry white wine
1-1/3 cup chicken broth
2/3 cup heavy cream
salt and pepper to taste
basil and lemon for garnish
LET'S GET COOKING
1.

Begin preparing the chicken breasts by slicing them thin.

2.

Season them with 1 tbs Casa M Spice Co® Good Shepperd. Refrigerate for 1 hour.

3.

Preheat oven to 180º degrees or turn your oven warmer on. (You will keep chicken warm if done before the pasta).

4.

Cook pasta according to package instructions. When done, drain and keep covered.

5.

While pasta boils, continue to prepare the chicken.

6.

In a deep bowl, combine the flour and the remainder of the Casa M Spice Co® Good Shepherd®.

7.

In another shallow bowl combine the egg and milk. Whisk well.

8.

Dredge the chicken pieces into the flour, then egg mixture and back into the flour. Set aside until all pieces are done.

9.

Heat oil in a large skillet over medium to high heat.

10.

Fry chicken for about two minutes each side or until cooked through. Remove from skillet, cover and keep warm in oven, preferred.

11.

In another large skillet, heat oil and sauté peppers, onions and mushrooms. Add 1 tbs Casa M Spice Co® Good Shepherd®.

12.

Add butter and garlic. Sauté for another minute.

13.

Add wine and broth and cook on low for 5 minutes.

14.

Add heavy cream, salt and pepper. Cook for another minute.

15.

Slice the chicken into strips.

16.

You may add the chicken to the sauce and then over pasta or you can add the sauce to the pasta and place chicken over top.

17.

Chopped basil and squeezed lemon for garnish.