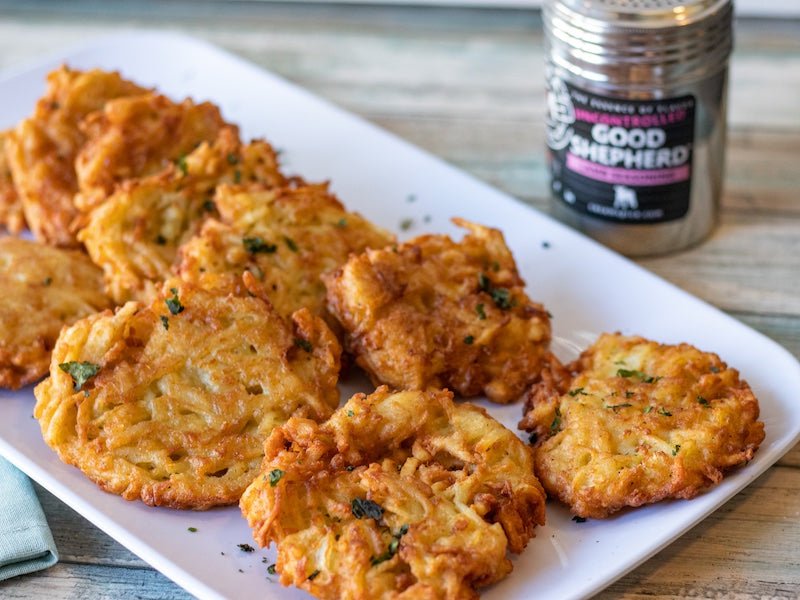 Good Shepherd Latkes
As always, from our table to yours... #SpiceConfidently #EssenceOfFlavor #ChemistryInTheKitchen #CasaMSpice
ingredients
For the Latkes:
2 large Russet potatoes (about 1 pound), scrubbed and cut lengthwise into quarters
1 large onion, peeled and cut into quarters
2 large eggs
1⁄2 cup all-purpose flour
2 teaspoons Casa M Spice Co® Chain Reaction®
1 Tablespoon Casa M Spice Co® Good Shepherd®
1 teaspoon baking powder
1/2 teaspoon black pepper, freshly ground
safflower or other oil for frying
LET'S GET COOKING
1.

Using a food processor with a grating disc, grate the potatoes and onion. Transfer the mixture to a large bowl.

2.

Quickly, add the eggs, flour, salt, baking powder and pepper, and Casa M Spice Co® Good Shepherd. Mix well until the flour is absorbed.

3.

In a medium heavy-bottomed pan over medium-high heat, pour in about 1/4 inch of the oil.

4.

Once the oil is hot (a drop of batter placed in the pan should sizzle), use a heaping tablespoon to drop the batter into the hot pan, cooking in batches.

5.

Use a spatula to flatten lightly and shape the drops into discs.

6.

When the edges of the latkes are brown and crispy, about 5 minutes, flip. Cook until the second side is deeply browned, about another 5 minutes.

7.

Transfer the latkes to a paper towel-lined plate to drain and sprinkle with salt while still warm. Repeat until all batter is used.

8.

Great dipping sauces to serve latkes with are mustard based sauces, spinach sauces, creamy herbed feta, salted yogurt but most popular are a dollop of cool sour cream or chunky sweet applesauce.

9.

You may refrigerate leftovers and bake at 350º for about 10 minutes.