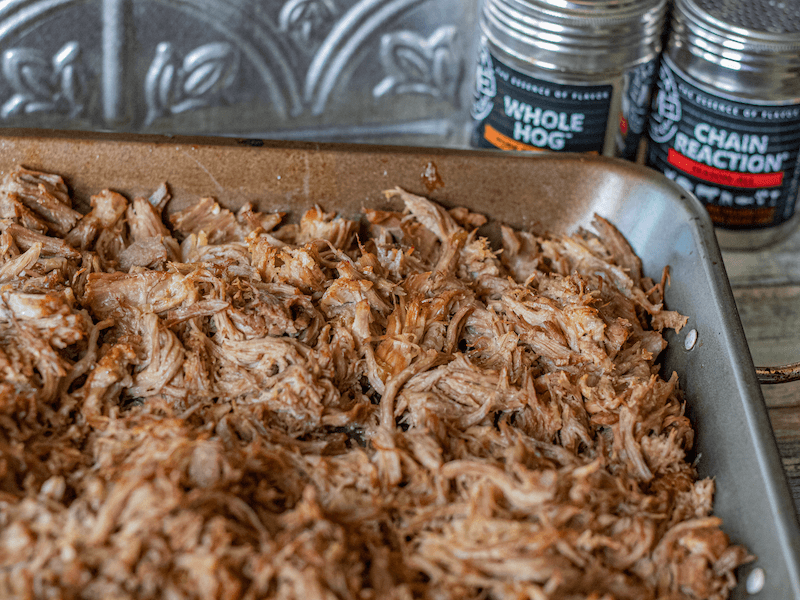 Instant Pot Pork Carnitas
As always, from our table to yours... #SpiceConfidently #EssenceOfFlavor #ChemistryInTheKitchen #CasaMSpice


— Mike Hernandez
ingredients
For the Carnitas:
6 pounds pork shoulder, boneless, cut into chunks
1 Tablespoon Casa M Spice Co® Chain Reaction®
3 Tablespoons Casa M Spice Co® Whole Hog®
1/2 cup orange juice
2 Tablespoons garlic, minced
2 Tablespoons apple cider vinegar
1 Tablespoon olive oil
1/2 large yellow onion, chopped
4 oz can green chiles, drained
2 cups chicken broth
LET'S GET COOKING
1.

Add the pork chunks to a large mixing bowl and season well with Casa M Spice Co® seasonings and garlic. Mix well and cover and let sit for 4 hours or up to overnight in the refrigerator.

3.

Set up your Instant Pot on Sauté mode, add the olive oil, and let it come to temperature.

4.

Once it's up to temperature, add the onions and chiles. Mix and cook for 3-5 minutes. Add the chicken broth and mix well. Add the pork from the refrigerator including ALL the seasoning (scrape the bowl well), the orange juice, and the apple cider vinegar and mix well.

5.

Cook on Pressure Cook mode (high pressure) for 45 minutes. Let it cool and then vent itself completely (carefully).

6.

While the Instant Pot is venting, preheat your oven on HIGH BROIL.

7.

Once the Instant Pot is vented and pork is safe to handle, remove it to a flat surface and shred it with a fork.

8.

Place the pork on a baking sheet in a single layer and broil until you get the caramelization you prefer. Sprinkle some of the reserved cooking liquid over the top of the pork and serve immediately.