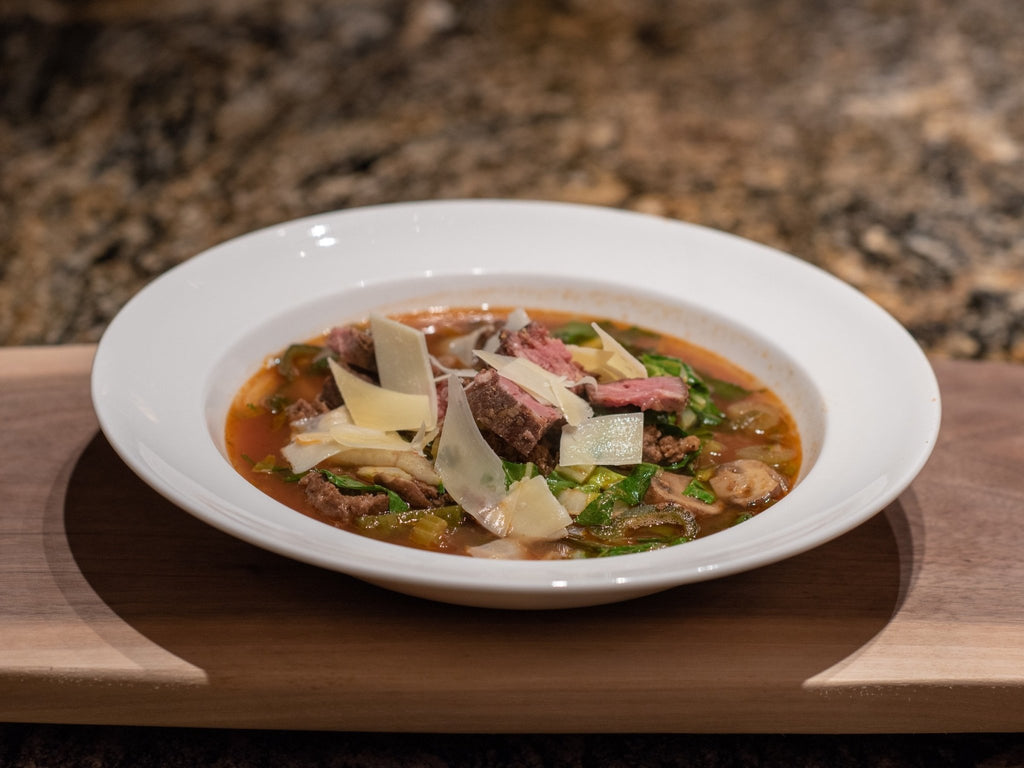 Keto-Friendly Beef Soup
Here at Casa M the post-holidays era has brought with it a focused effort to shed the extra padding that celebrating both the holidays and our tremendous success at the Fiery Foods Competition (with six awards including two Golden Chile awards) brought with it. Like a large portion of the population now, we too are trying the keto diet. While we have seen success, sometimes you crave things you can't have, and this was the case this month. For some reason, we wanted bread something awful, and that's definitely a no-go. What we did instead, that addressed that craving, was unexpected and the end-result incredibly tasty. Hearty, spicy beef soup that satisfies completely; it's like a "comfort soup" that warms you and satisfies all your cravings (meats, vegetables, spices, chiles, acidity, etc.) all while being keto friendly. This recipe makes about 16 cups of soup. You can easily half this recipe to suit your needs. We left it as a large pot of soup to keep the tomato paste and chipotles in adobo at whole cans. While you might be tempted to substitute some other type of beef for the ground beef, we can tell you that we've tried many different iterations of this soup and there's just no substitute for the ground beef. Just go with it and we promise you'll enjoy. If you are on a Keto diet, you know that it can be a challenge to resist the cravings to have something that is heartier and more filling. You may think that the idea of a beef soup while on a Keto diet is impossible. Not with this recipe from Casa M Spice CoⓇ, that helps you satisfy cravings for comfort food like meats, vegetables, spices and chiles while still abiding to the standards of the diet. It is a truly Keto-Friendly Beef Soup. #SpiceConfidently #EssenceOfFlavor #CasaMSpice

— Mike Hernandez
ingredients
FOR THE SOUP
1 Tablespoon Casa M Spice Co® Cattle Drive® or Uncontrolled Cattle Drive®
1 Tablespoon Casa M Spice Co® Chain Reaction® (plus more to adjust seasoning at the end)
1 Tablespoon Casa M Spice Co® Uncontrolled Chain Reaction® (optional, for added heat)
1 7 oz can chipotles in adobo
1 6 oz can tomato paste
2 cups celery, chopped
2 cups mushrooms, chopped
1 medium onion, chopped
2 poblano chiles, seeded, cut into bite-size pieces
1 head bok choy, chopped into bite-size pieces
3 cubes Rapunzel vegetable bouillon with sea salt
1 Tablespoon Better Than Bouillon beef base
4 pounds ground beef (we used Texas Craft Wagyu ground beef)
12 cups water
FOR GARNISHING
1 bunch fresh cilantro, chopped to sprinkle on top
1 cup shaved Parmesan cheese to sprinkle on top
Tabasco sauce, to add acidity as desired
FEATURED QUOTE
...it's like a "comfort soup" that warms you and satisfies all your cravings (meats, vegetables, spices, chiles, acidity, etc.) all while being keto friendly.
- Mike Hernandez
LET'S GET COOKING
1.

Start by preparing the vegetables and garnish. Once this soup starts, it comes together very quickly. It's 30 minutes start-to finish once you start to brown the ground beef with most of that being cooking time.

2.

In a large, thick bottomed soup pot that will hold at least 16 cups of soup, brown the ground beef well.

3.

Add the celery, mushrooms, onion, and chiles to the ground beef, reduce the heat to medium, cover, and let the vegetables cook for 5 minutes to soften.

4.

Add the tomato paste to the pot and stir to mix it in. Once the tomato paste is evenly distributed, add the water to the pot and mix thoroughly.

5.

Add the Casa M Spice Co® Chain Reaction®, Cattle Drive® (or Uncontrolled Cattle Drive®), the optional Uncontrolled Chain Reaction® for added heat, the vegetable bouillon cubes, and the beef stock to the pot and stir in.

6.

Bring the soup to a gentle boil, then reduce heat to simmer, cover, and let cook for ~20 minutes.

7.

Taste the soup broth and adjust seasonings to your taste. Add more Casa M Spice Co® Cattle Drive® to adjust black pepper or more Chain Reaction® to adjust for "salt brightness".

8.

Once seasoning has been adjusted to taste, add bok choy and stir in. Allow the soup to cook for another ~5 minutes, then pull to serve.

9.

Serve in wide bowls and garnish with cilantro, Parmesan cheese, and Tabasco to add acidity to desired level.