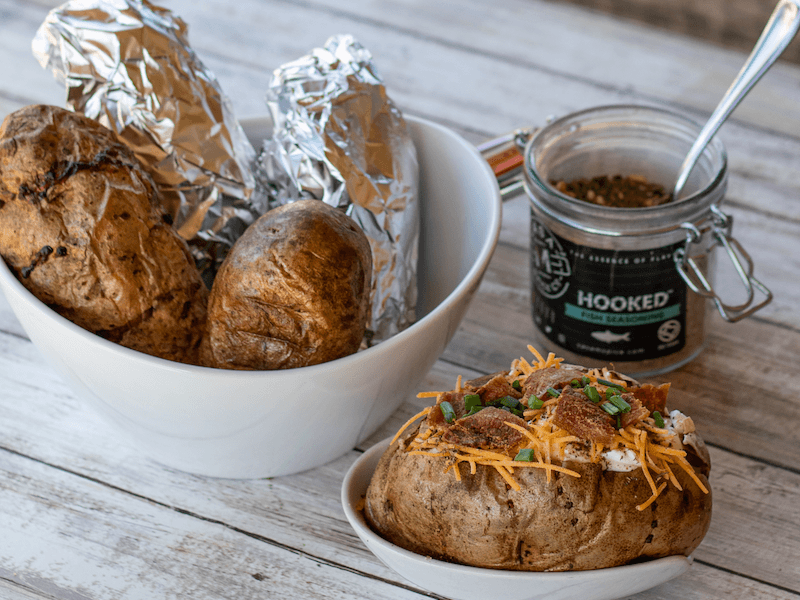 Loaded Baked Potatoes
As always, from our table to yours... #SpiceConfidently #EssenceOfFlavor #ChemistryInTheKitchen #CasaMSpice


— Mike Hernandez
ingredients
For the Potatoes:
4 large baking potatoes
1/4 cup olive oil
1 Tablespoon Casa M Spice Co® Chain Reaction®
4 Tablespoons butter
1 cup grated Cheddar Cheese
4 slices of bacon, cooked crispy, drained, crumbled
4 Tablespoons sour cream
1 bunch scallions, greens only, chopped
Casa M Spice Co® Hooked® to sprinkle over the top
LET'S GET COOKING
1.

Preheat your oven to 400°F.

2.

Wash and dry the potatoes. When dry, you have two choices. If you prefer a crispy, seasoned skin, once the potatoes are thoroughly dry, rub them with olive oil, then sprinkle Casa M Spice Co® Chain Reaction® on the skin rotating the potatoe to coat it evenly. If you prefer a soft/tender skin, skip the oil and dusting and wrap with aluminum foil.

3.

Once prepared, put the potatoes on a baking sheet. and place into the oven. Bake for ~60 minutes testing every 10 minutes after 50 minutes until a fork can easily be inserted into the center of the potato.

4.

Once baked, remove from the oven and prepare to dress them. Top with butter, sour cream, green onion, cheese, and bacon, then sprinkle with Casa M Spice Co® Hooked. Serve immediately!