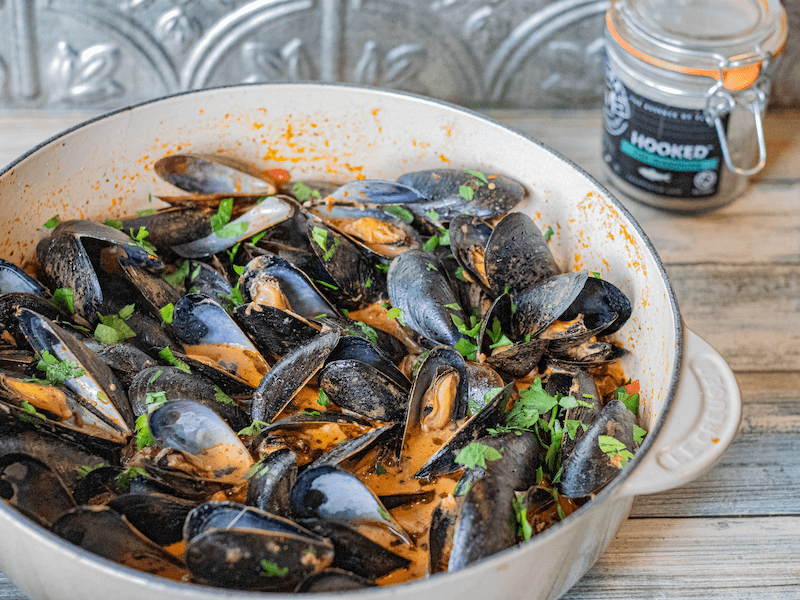 Mussels in Creamy Tomato Sauce
As always, from our table to yours... #SpiceConfidently #EssenceOfFlavor #ChemistryInTheKitchen #CasaMSpice


— Mike Hernandez
ingredients
For the Mussels:
4 Tablespoons butter
1 teaspoon garlic, minced
15 oz can diced tomatoes
1/2 cup dry white wine
1 Tablespoon Casa M Spice Co® Hooked®
1 teaspoon Casa M Spice Co® Chain Reaction®
2 pounds fresh mussels
1/2 cup heavy cream
parsley, chopped
LET'S GET COOKING
1.

Wash the mussels well under running cold water and brush them well to remove any remaining dirt. Set aside in a strainer to drain.

2.

In a large, deep skillet melt the butter over medium-low heat. Add the garlic and Casa M Spice Co® Chain Reaction® and cook until the garlic is fragrant and translucent.

3.

Add the tomatoes, wine, and Casa M Spice Co® Hooked. Stir well and let simmer for 5 minutes.

4.

Add the mussels to the pot in a single layer, if possible, and cover with a lid. Let the mussels steam for about 10 minutes until all the mussels have opened. Any unopened mussels at this point should be discarded and not served.

5.

Pour in the heavy cream and mix well. Simmer for 1-2 minutes.

6.

Sprinkle in the chopped parsley and serve with crusty bread.