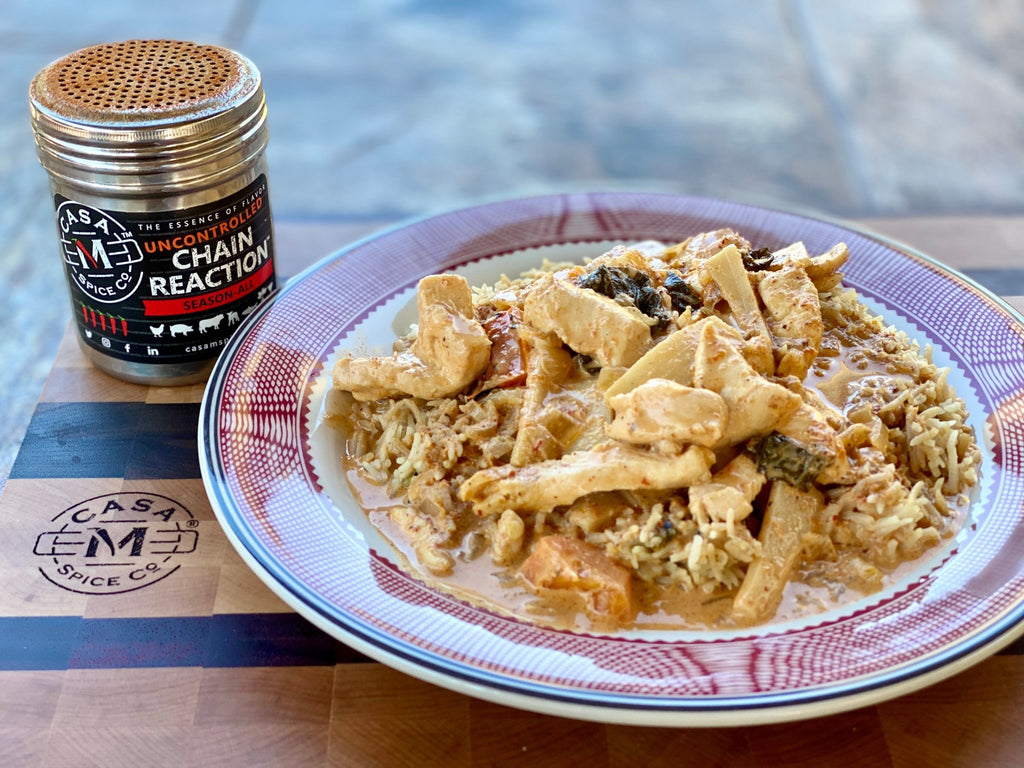 Panang Chicken Curry
I'm not sure why I've always been a fan of curry, particularly Thai curry. I was introduced to panang curry by a really good cycling friend of mine who is Filipina. She made some super good panang pork that I'll never forget. Adapting her recipe to use Casa M Spice Co® seasonings was easy. The red chiles in our Chain Reaction® naturally compliment the red and green chiles in the panang curry paste. While we had chicken on hand to make this recipe, it works just as well for beef and pork. If you're using either beef or pork remember that the tougher cuts of both require internal temperature to reach ~200°F to get fork tender, so adjust your braising time in the curry sauce accordingly.
This recipe comes together quickly. Measure out everything in advance and have them near you. Early stages of making the curry sauce are critical. Don't scorch the curry paste, but you also want to fry it lightly, so stir constantly and keep the coconut milk at the ready to cool off and keep things moving well in the pan. Give the sauce a chance to reduce by 25% in the pan. You will notice a big difference in the consistency of the sauce as it reduces. When it first starts, it will definitely be too thin to coat the back of a wooden spoon. By the time it's reduced, you'll notice it clings well to the back of the wooden spoon. Cook the chicken just until it's done. Same for if you use beef or pork. pull small pieces and test them, turn the heat off right when they're finished cooking and serve over hot white rice.
As always, from our table to yours... #SpiceConfidently #EssenceOfFlavor #ChemistryInTheKitchen #CasaMSpice


— Mike Hernandez
ingredients
For the Panang Sauce:
4 Tablespoons panang curry paste
3 Tablespoons of coconut cream skimmed off the top of the coconue milk (or coconut oil)
2 kaffir lime leaves, cut into a chiffonade
1 Tablespoon Casa M Spice Co® Chain Reaction®
Pulling It All Together:
6 cups full-fat coconut milk (reserve 3 Tablespoons of cream off the top for cooking the curry)
1/2 cup white onion, diced
1/2 cup sweet basil, roughly chopped
2 pounds chicken breast or thigh, boneless, skinless, cut into bite-size pieces
1 cup canned bamboo shoots
1/2 cup red bell pepper, diced
1 Tablespoon Thai fish sauce
1 teaspoon sugar
1 Tablespoon tamarind paste
serve over cooked longn grain white rice
FEATURED QUOTE
Don't scorch the curry paste, but you also want to fry it lightly, so stir constantly and keep the coconut milk at the ready to cool off and keep things moving well in the pan.
- Mike Hernandez
LET'S GET COOKING
1.

It a large sautée pan over high heat, heat the coconut cream or coconut oil for about a minute before adding the curry paste. Mix well and continue to stir while it heats similar to making a roux.

2.

Add the lime leaves and continue to cool for about 1 minute more until the poaste starts to thicken and becomes very fragrant. Add the Casa M Spice Co® seasonings and a little coconut milk. Mix and keep cooking. Add more coconut milk as needed to keep it moving and keep cooking until the curry has the consistency of peanut butter. A total of about 5 minutes for us.

3.

Add the onion, basil, and all the remaining coconut milk into the pan. Bring to a full boil, mixing well, then reduce heat to low and let cook for 20 minutes or until about 25% reduction in the liquid volume and easily coats the back of a wooden spoon./p>

4.

Add the chicken, bamboo shoots, bell pepper, fish sauce, tamarind paste, and sugar. Mix well and just bring to a boil, then reduce the heat to simmer and let cook for 10-15 minutes until the chicken is cooked through.

5.

Remove from the heat and serve hot over cooked white rice.