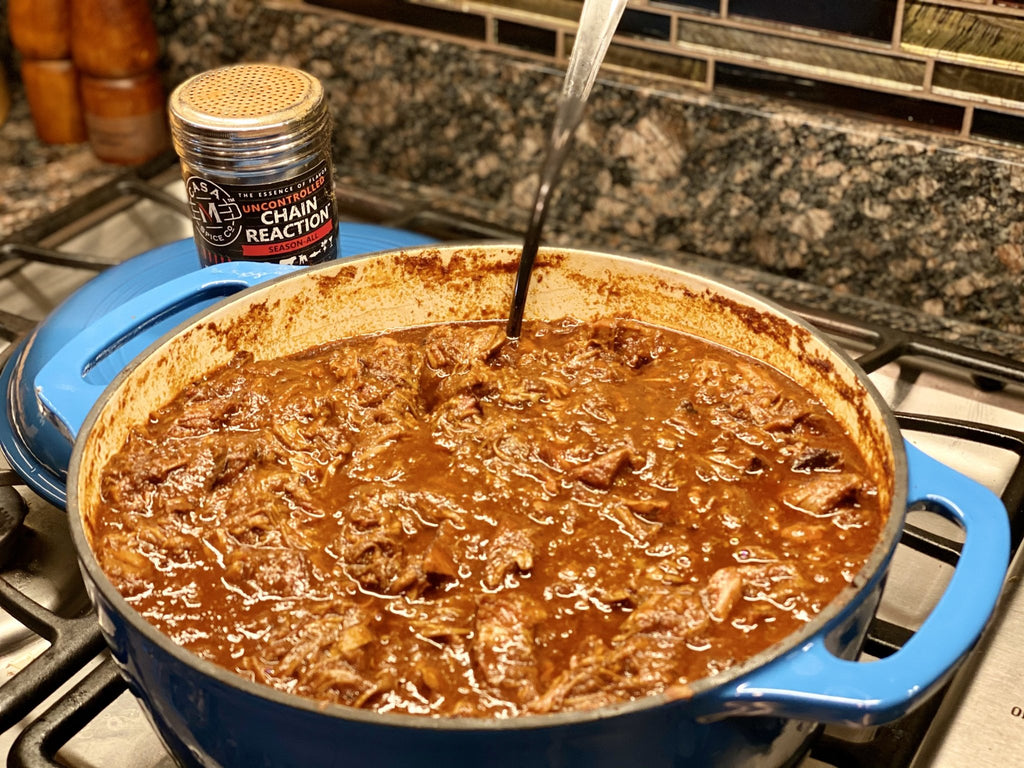 Pork in Chile Colorado Sauce
Despite the sound of it, chile colorado is not a type of chili (stew) from Colorado, nor is it a type of chile (pepper) from Colorado. Learning Spanish can be very challenging for sure. I thought focusing on cooking terms was a smart place to start. Very confusing, still. Colorado refers to being colored red. so technically it's making reference to a red chile and particularly in the Southwest US and Chihuahua region in Mexico, chile colorado really refers to an Aneheim chile grown in New Mexico left to ripen on the vine until it turns red, then dried. The dish can be made with either beef stew meat or pork shoulder, but pork is more traditional. This recipe comes from doña Victoria, my mother-in-law (Manny's mom) and gets her nod of approval on both authenticity and flavor profile..
While it's rare to see in the wild, "leftover" smoked pork shoulder (I know most of you are asking what that is) is a perfect vehicle for this recipe. It skips the cooking stage entirely where you simply add it and the oil and flour to the pan just to get some browning on the flour before adding the sauce. You can adjust the flavors in your chile colorado sauce by changing the ratio of ancho chile to New Mexico red chiles. Ancho adds a little depth and sweetness to the mix.
As always, from our table to yours... #SpiceConfidently #EssenceOfFlavor #ChemistryInTheKitchen #CasaMSpice


— Mike Hernandez
ingredients
For the Pork:
2-1/2 pounds boneless pork shoulder meat, cut into 1/2" cubes
1/2 cup water
For the Chile Colorado Sauce:
3 cups water
8 cloves garlic, minced
1/2 teaspoon cumin, ground
2 Tablespoon Casa M Spice Co® Chain Reaction®
1 Tablespoon Casa M Spice Co® Cattle Drive®
1/2 teaspoon Mexican oregano
1 Tablespoon ancho chile, ground
8 New Mexico red chile pods
Pulling It All Together:
2 Tablespoons avocado oil
1 Tablespoon all-purpose flour
FEATURED QUOTE
While it's rare to see in the wild, "leftover" smoked pork shoulder (I know most of you are asking what that is) is a perfect vehicle for this recipe.
- Mike Hernandez
LET'S GET COOKING
1.

To a large thick-bottomed pot add the water and then the pork. The pork should cover the bottom evenly in two layers or less. Cover the pan and cook over low heat until the meat is just tender, all the liquid is absorbed into the meat, and the fat is rendering out of the meat. Add small amounts of water as needed. This process should take just shy of about an hour.

2.

To another pot, add the dried New Mexico red chile pods (remove the stems, but leave the seeds). Add just enough water to cover them, then bring to a boil. Turn the heat to simmer and cover the pot. After 10 minutes, transfer the chile pods (along with one (1) cup of the soaking water), garlic, cumin, oregano, ancho, and Casa M Spice Co® seasonings, to a blender and purée well to a paste.

3.

Back to the pan with the pork, look at the amount of fat that has rendered in the pan. If needed, add avocado oil to make up to 3 Tablespoons of fat in the pan. Heat over medium high heat frying the pork lightly and turning it to get an even browning. Sprinkle the flour over the browning pork, allowing it to brown lightly as well as the pork flips and browns.

4.

Run the blended sauce through a strainer into the pot with the pork and continue to fry for a few more minutes stirring and scraping the bottom of the pan. Add 2 cups of water to the pot and stir and continue to cook for 20-30 more minutes.

5.

Season the mixture, then serve in bowls with flour tortillas.