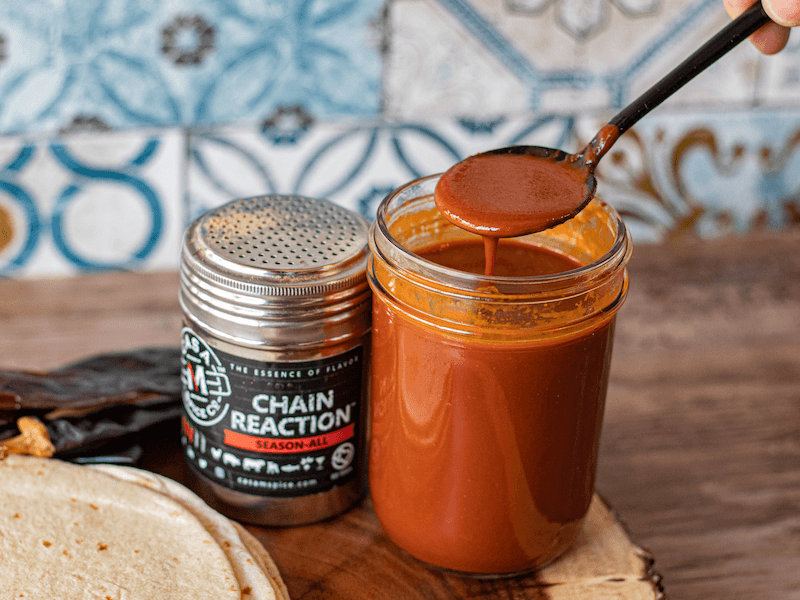 Red Enchilada Sauce
As always, from our table to yours... #SpiceConfidently #EssenceOfFlavor #ChemistryInTheKitchen #CasaMSpice


— Mike Hernandez
ingredients
For the Enchilada Sauce:
8 dried guajillo chiles, stemmed and seeded
1/4 large yellow onion
2 cloves garlic
1 Tablespoon Casa M Spice Co® Chain Reaction®
5 oz Abuelita chocolate powder mix
2 Tablespoons vegetable oil
LET'S GET COOKING
1.

Rinse, then remove stems and seed the chiles. Add about 4 cups of water to a pot and bring to a boil. Add the chiles and reduce heat to simmer. Let simmer for about 10 minutes to let the chiles soften.

2.

Carefully transfer the chiles to a blender along with 2 cups of the water from the pan, the onion, garlic, and Casa M Spice Co® Chain Reaction. Blend for about 30 seconds.

3.

Add the oil to a skillet and heat over medium heat. When the oil is hot, strain the sauce into the pot using a spoon to help get the sauce through the strainer if needed.

4.

Add the chocolate powder to the skillet and mix well. Reduce heat to simmer, and let simmer about 15 minutes.

5.

Remove from the heat, let cool, and use immediately or refrigerate for later service.