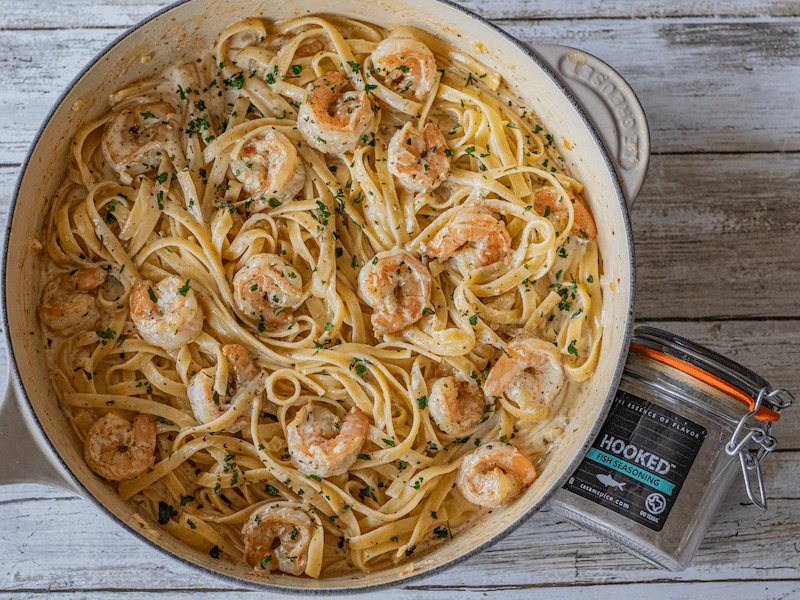 Shrimp Alfredo
As always, from our table to yours... #SpiceConfidently #EssenceOfFlavor #ChemistryInTheKitchen #CasaMSpice
ingredients
For the Alfredo:
3/4 lb fettuccine
1 lb shrimp, peeled and deveined
1/2 tsp Casa M Spice Co® Chain Reaction
1/2 tsp Casa M Spice Co® Hooked
1 tbsp olive oil
1/2 small onion, finely chopped
2 tbsp butter
1 garlic clove, minced
1/3 cup white wine
2 cups heavy whipping cream
1/3 cup parmesan cheese, grated, shaved, or shredded
parsley, finely chopped for garnish
LET'S GET COOKING
1.

Clean and devein shrimp.

2.

Cook the linguini as package instructs and set aside to keep warm.

3.

Season the cleaned and deveined shrimp with Casa M Spice Co® Chain Reaction and Hooked.

4.

In a skillet, add olive oil and set to medium heat.

5.

Once heated, add the shrimp in one layer. Cook for 2 minutes. The turn each over and cook for another 2 minutes.

6.

When shrimp is done, set aside and keep warm.

7.

In that same skillet, add the chopped onions, stir. If too dry, add about a tsp more olive oil.

8.

Add butter and stir until melted. Once melted, add wine to the skillet to deglaze the pan. Stir and scrape the bits from the bottom of the pan. So much flavor is right in there!

9.

Once it comes to a slight simmer, add heavy cream. Stir well and bring to a simmer. Once it comes to a simmer again, add the cheese and stir until cheese is melted. Bring to another simmer.

10.

Add pasta, stir pasta in well. Add cooked shrimp and stir in well. Top with finely chopped parsley and enjoy!