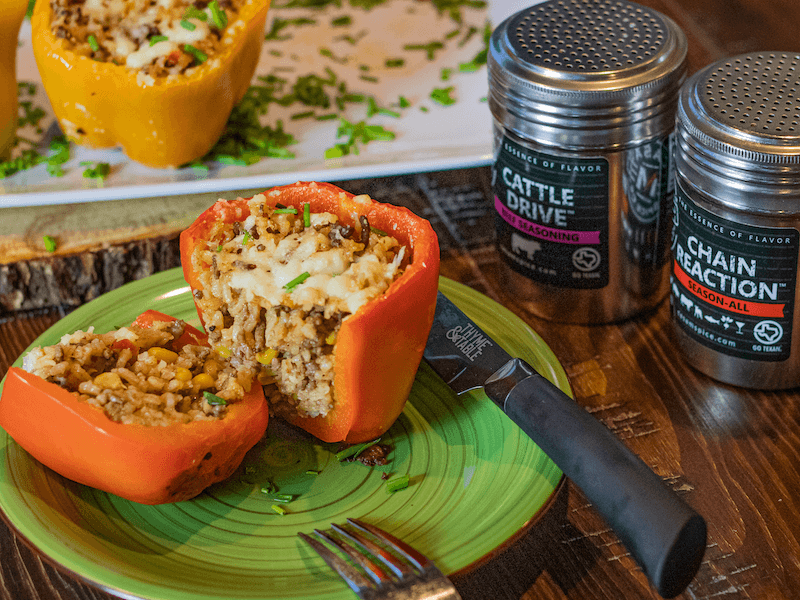 Stuffed Peppers
As always, from our table to yours... #SpiceConfidently #EssenceOfFlavor #ChemistryInTheKitchen #CasaMSpice
ingredients
For the Filling:
1 Tablespoon canola or corn oil
1 pound ground beef
1 onion, peeled, chopped
1/2 green bell pepper, cored, seeded, chopped
1/2 red bell pepper, cored, seeded, chopped
1-1/2 cups long grain rice, uncooked
1/2 14.5-oz can diced tomatoes
2 cups beef broth
1 cup canned sweet corn, drained
1 Tablespoon Casa M Spice Co® Jerked Chain®
1 teaspoon Casa M Spice Co® Chain Reaction®
Pulling It All Together:
10 bell peppers (any color)
cheese to top the stuffed peppers
LET'S GET COOKING
1.

In a deep skillet that has its own lid, add oil and heat over medium-high heat. Add onions and peppers and cook stirring constantly for 2 minutes. Add ground beef and cook stirring until it is cooked through and starts browning.

2.

Add the rice and cook for 4-5 minutes then add the tomatoes, corn, beef broth, and Casa M Spice Co® seasonings and stir well. Bring to a boil, then cover and reduce heat to simmer. Cook covered for 25 minutes. Taste the rice after 25 minutes and make sure the rice is tender. If so, move to the next step. If not, let the rice cook a little longer until it's tender.

3.

Preheat the oven to 350°F.

4.

Coat a large baking dish with cooking spray or line with non-stick aluminum foil.

5.

Slice the tops off the peppers and remove the ribs and seeds inside. Rinse.

6.

Place the peppers cut side down in the baking dish. Add 1 1/2 cups of water to the dish. Cover the dish with foil and bake for 15 minutes. Remove the peppers from the oven and drain off the water. Turn the peppers over and fill each one with the filling from above. . 
Uncover, add the rest of the queso fresco and bake for another 10 minutes or until cheese is melted and peppers are tender. .

7.

Want it very cheesy? Add half of the cheese now, then cover with foil and bake for 20 minutes, then uncover and add more cheese and bake for another 10 minutes or until the cheese is fully melted and starting to brownand the peppers are tender.