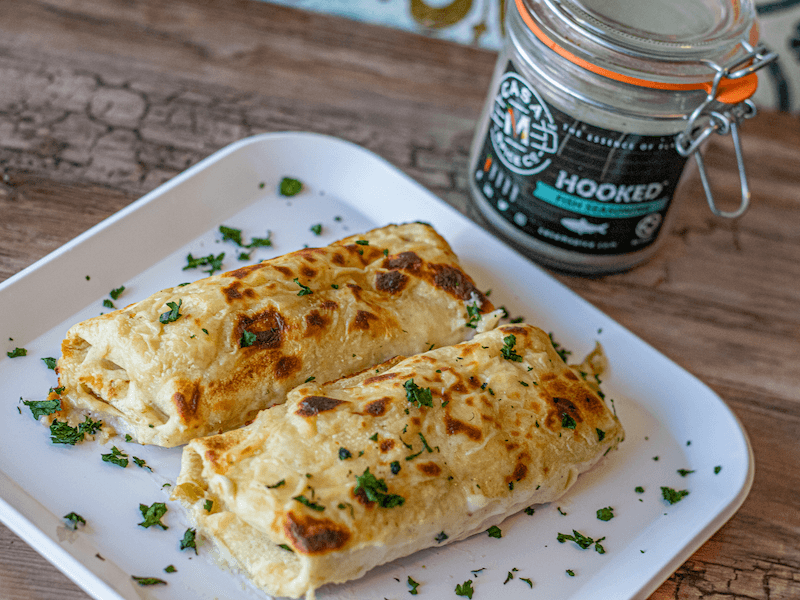 White Chicken Enchiladas
As always, from our table to yours... #SpiceConfidently #EssenceOfFlavor #ChemistryInTheKitchen #CasaMSpice
ingredients
For the Enchiladas:
2 cups chicken meat, cooked, shredded
2-1/2 cups Monterey Jack cheese, divided
5 oz cream cheese
3 Tablespoons butter
3 Tablespoons all-purpose flour
1 Tablespoon Casa M Spice Co® Hooked®
1 teaspoon Casa M Spice Co® Chain Reaction®
2 cups chicken broth
1 cup sour cream
4 oz can diced green chiles
Pulling It All Together:
10 flour tortillas
chopped cilantro and onions for garnish (optional)
LET'S GET COOKING
1.

Rotisserie chicken is a good starting point for this recipe, shredding as much as possible.

2.

Preheat the oven to 350°F and grease a 13" x 9" baking pan.

3.

To a large bowl add the shredded chicken, 3/4 cup of the Monterey Jack, the Casa M Spice Co® spices, and the cream cheese. Mix well so everythign is thoroughly combined.

4.

In a saucepan, melt the butter and then stir in the flour cooking for 1 minute. Add the broth and whisk until smooth. Add 1/2 cup of the Monterey Jack and heat over medium heat until thick and lightly bubbly. Stir in the sour cream and green chiles. Remove the pot from the heat immediately after adding these. Mix well.

5.

Lay the tortillas flat. Add some of the chicken then spoon some sauce over the chicken, fold it over and place it into the baking pan. All 10 of these should fit into one pan.

6.

In a saucepan, combine the ingredients for the spicy sauce over medium high heat, allow it to come to a boil, then reduce the heat so it simmers. Let simmer while the meatballs finish cooking.

7.

Pour the remaining sauce over the enchiladas and top with the remaining Monterey Jack cheese.

8.

Bake for 25 minutes, then switch to broil-high and let the cheese brown for about 3 minutes.

9.

Top with chopped cilantro and onions and enjoy!