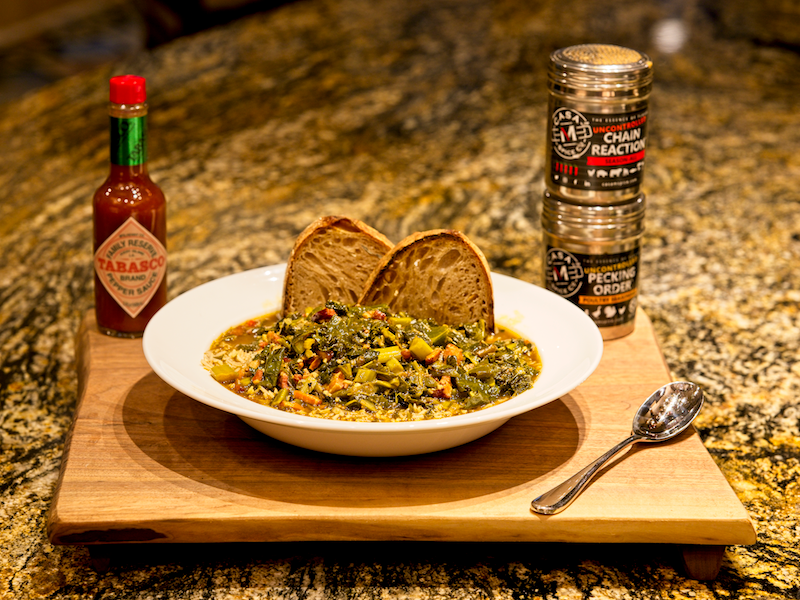 Casa M Green Gumbo
This cajun classic takes me back to my time at Tulane as a graduate student in the mid-90's when I developed my passion for the flavors that made cajun/creole food from Louisiana, particularly in New Orleans, stand out. This gumbo goes by many names depending on where you are. It can be called "Green Gumbo", "Herb Gumbo", or as the cajun say it "Gumbo Z'herbes". Regardless of what it's called this gumbo is amazingly harty with an earthy base (from the okra and a dark roux) and is chock full of just about any/all the greens you can get your hands on. Since it starts with bacon, it's got to be good. Adding some ham and a ham bone to enrich the broth rounds out the base-flavors. A few dashes of Tabasco at the table is required as it completes the balance of flavors with a touch of acid from the vinegar and a little up-front heat to delight the tastebuds.
This recipe takes several hours of preparation chopping and getting things ready, but it is well worth the effort and yields a big pot of gumbo that refrigerates well and will provide several meals to enjoy with your friends and family. Believe it or not, it freezes pretty well too, though you do lose a little bit of the texture in the greens after freezing. Note that it is very important (from a safety perspective) to cool the roux a bit before adding the garlic and onions in to cook/caramelize. We use "smothered okra" in this recipe because that's how we store okra for later use after the growing season ends here in North Texas, but if you don't mind the texture of cut okra in your gumbo, use fresh and add to the roux mix with the stems from the greens so they stew a little before adding to the broth to simmer. According to my great grandmother, who grew up and lived in New Orleans her whole life, this gumbo was traditionally prepared on Fridays as a vegetarian dish (primarily on Good Friday, but often during the whole of lent and even for observant Catholics throughout the year). It's pretty easy to make this recipe vegetarian by making your roux from a vegetarian fat instead of bacon, using a great vegetable stock (preferrably homemade), and omitting the ham bone and ham. It will still be harty and delicious. If you prepare this as a vegetarian dish, we recommend adding 4 Tablespoons of butter to the pot just as you turn off the heat
As always, from our table to yours... #SpiceConfidently #EssenceOfFlavor #ChemistryInTheKitchen #CasaMSpice


— Mike Hernandez
ingredients
For the Roux:
1 pound bacon, diced
3/4 cups all-purpose flour
3/4 cup total fat including the rendered bacon fat from above
For the Gumbo:
1-1/2 cups onions, chopped
8 cloves garlic, minced
3/4 cup poblanos, chopped
3/4 cup celery, chopped
2 pounds assorted greens such as collards, mustard, turnip, spinach, chard, or kale, trimmed, washed, dried; stems separated from tender leaves; stems finely diced and leaves roughly chopped
2 cups of fresh okra, chopped into 1/4" thick rounds (or 1 cup "smothered okra")
8 cups chicken stock
1 Tablespoon Casa M Spice Co® Uncontrolled Chain Reaction®
1 Tablespoon Casa M Spice Co® Uncontrolled Pecking Order®
3 bay leaves
1 ham bone/hock
1 pound smoked ham, cut into bite-sized pieces
1 Tablespoon fresh thyme leaves
1 Tablespoon fresh oregano leaves
1 Tablespoon fresh basil leaves
1/4 cup fresh parsley leaves, chopped
FEATURED QUOTE
"It's pretty easy to make this recipe vegetarian by making your roux from a vegetarian fat instead of bacon, using a great vegetable stock (preferrably homemade), and omitting the ham bone and ham.
- Mike Hernandez
LET'S GET COOKING
1.

Cook the bacon in a thick-bottomed pot large enough to hold (prior to any wilting) the roux, the onions and garlic, the okra, and the chopped stems from the greens. When well-browned, remove the cooked bacon from the pot, leaving the rendered fat. You need about 3/4 cups fat for the roux so add leaf lard, ghee, or other fat to the rendered bacon fat to get to that amount.

2.

Gradually add the flour to the pot while stirring constantly to break up clumps and heat over medium heat until the roux goes from white through blonde, tan, light brown, and finally to a milk chocolate color. The roux should take about 30 minutes and will require constant stirring and supervision. Turn off the heat and remove the pot from the burner where it was cooking so it doesn't scorch and starts to cool. Continue to stir the roux while it cools. 

3.

When the roux has cooled a bit carefully add the garlic and onions and put back on the burner over low heat cooking them until they start to caramelize. Reduce the heat to simmer then add the poblanos, celery, okra, and chopped stems from the greens to the pot. Mix well and cover to let them soften and lightly cook. About 30 minutes; they should all be soft at this point. Turn off heat and leave the pot covered.

4.

In a large stockpot over high heat bring the stock, bay leaves Casa M Spice Co® seasonings, and ham hock/bone to a boil. Mix in the roux/vegetable mixture until it is well incorporated and bring back to a boil. Add reserved, cooked bacon, smoked ham, herbs, and chopped greens to the pot. Return to a gentle boil, reduce the heat to simmer, and let simmer for 90 minutes covered.

5.

Taste and adjust seasonings. Remove the bay leaves (if you can find them) and the ham bone/hock. Serve in deep soup bowls over cooked white rice.