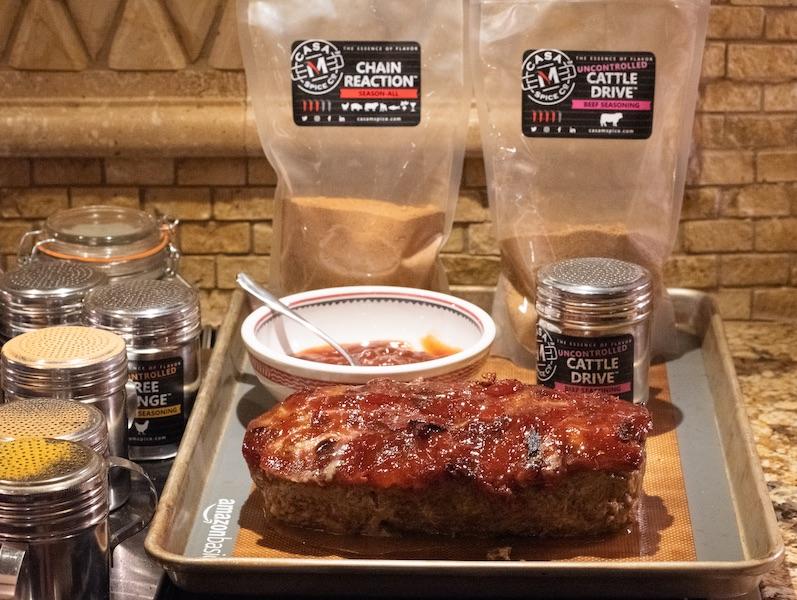 Smoked Chipotle Glazed Meatloaf
Who can deny the absolute appeal of comfort food? One of our favorite comfort foods (aside from our Casa M Smoked Green Chile Mac-n-Mornay, of course) is meatloaf. We can't put a finger on exactly why since neither of us had great meatloaf experiences growing up that led us here organically, but we both tend to gravitate toward this meatloaf any time we've had a long week and need something to help ground and relax us. This recipe is very flexible, so please adapt to your personal preferences. If you don't like mushrooms or olives, simply omit them. No need to modify anything else to account for their removal. While it sounds odd, please try the dark soy sauce at least once in the recipe before you remove it. It adds a remarkable background umami flavor. The recipe calls for freeze dried shallots to offset the moisture added by the soy and Worcestershire sauce. If you go with fresh shallots (which will give up liquid when cooking) add 1/2 cup more bread crumbs. If you don't have a smoker or just want to skip that step, feel free to do so; The end result will still be amazing (if you go that route, you can even form them into a loaf pan and bake in a loaf pan too). Other than that, we know this will become your new favorite comfort food... please let us know if you try this and what your thoughts are when you have! From our table to yours... Meatloaf is one of the ultimate comfort foods, just the way mom used to make. This isn't your mama's favorite meatloaf though. Using a mix of Cattle DriveⓇ and Chain ReactionⓇ from Casa M Spice CoⓇ, you can spice up your meatloaf with a chipotle flare with these seasonings, then place it in the smoker to give it a smoky and delicious taste that takes meatloaf to a completely different place. Check out the recipe for smoked chipotle glazed meatloaf, get the ingredients and give it a try for yourself.#SpiceConfidently #EssenceOfFlavor #CasaMSpice

— Mike Hernandez
ingredients
FOR THE MEATLOAF
2 pounds ground beef
1½ cups Panko bread crumbs
3 eggs; large, beaten
1 Tablespoon dark soy sauce
1 Tablespoon Worcestershire sauce
1 small can (4 oz) can diced green chiles, well drained
1 small jar (4.5 oz) sliced mushrooms, well drained
1 small can (2.25 oz) sliced black olives, well drained
2 Tablespoons Freeze Dried Shallots
½ cup Parmesan Cheese
3 Tablespoons Casa M Spice Co® Cattle Drive™
1 Tablespoon Casa M Spice Co® Chain Reaction®
1 Tablespoon Casa M Spice Co® Uncontrolled Chain Reaction®
FOR THE GLAZE
1 cup Ketchup
¼ cup apricot or peach jam
2 tablespoons chopped canned chipotle peppers (in adobo sauce)
FEATURED QUOTE
While it sounds odd, please try the dark soy sauce at least once in the recipe before you remove it. It adds a remarkable background umami flavor.
- Mike Hernandez
LET'S GET COOKING
1.

Preheat your smoker to 225℉.

2.

Combine all meatloaf ingredients in a large bowl.

3.

Using your hands, combine all the ingredients in the bowl just enough to have them mixed and nothing more. Too much mixing will cause the meatloaf texture to be dense and tougher than usual.

4.

On a half sheet pan (cookie sheet) separate and mold the mixture into two stand-alone loaves on top of parchment paper.

5.

Preheat the oven to 350℉.

6.

Place the sheet pan into the smoker and smoke for 60 minutes.

7.

Mix the glaze ingredients well in a small bowl smashing the chipotles with a spoon to open them up and mix thoroughly.

8.

Remove the sheet pan from the smoker and glaze the meatloaves well.

9.

Put the sheet pan into the oven and bake for 30-45 minutes until the internal temperature is 165℉, remove from the oven to cool, re-apply glaze, then serve and enjoy some serious comfort food!