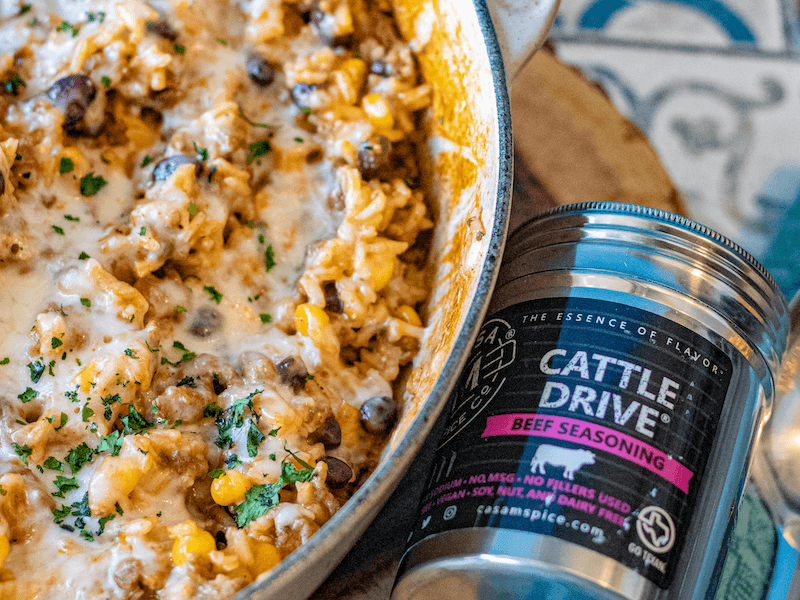 Casa M Spice Mexican Beef and Rice
As always, from our table to yours... #SpiceConfidently #EssenceOfFlavor #ChemistryInTheKitchen #CasaMSpice
ingredients
Para los Carne y Arroz:
2 Tablespoons olive oil
1 teaspoon minced garlic
1 lb ground beef (85% or 80% lean)
1 Tablespoon Casa M Spice Co® Cattle Drive
1 cup salsa, red, medium (or to taste)
2 teaspoons tomato paste
2-1/2 cups chicken broth/stock
1-3/4 cup long grain white rice, uncooked
8 oz canned yellow corn, drained
8 oz canned black beans, drained and rinsed
1 teaspoon Casa M Spice Co® Chain Reaction®
1/4 cup green onions/shallots, chopped
2 cups mozzarella cheese, shredded (divided in half)
1/4 cup cilantro, finely chopped
LET'S GET COOKING
1.

In a Dutch oven or deep skillet, over medium high heat, add oil. Once oil is hot, add the garlic and cook for about 30 seconds while stirring constantly.

2.

Add ground beef and break it up until it is completely browned. When done cooking through, add Casa M Spice Co® Cattle Drive® and Chain Reaction® and mix in well, then add the salsa stirring until it is mixed in.

3.

Add the tomato paste and stir until it's dissolved into the meat. Add the chicken broth, rice, corn, and black beans and stir well.

4.

Lower heat to medium low and cover the pot. Cook for 20 to 25 minutes or until no longer watery.

5.

After the 20 to 25 minutes, add the green onions/shallots and 1 lb of cheese. Stir in well. Sprinkle the other 1 lb of cheese evenly over top. Cover for 2 minutes.

6.

Uncover, sprinkle cilantro evenly over top and serve!