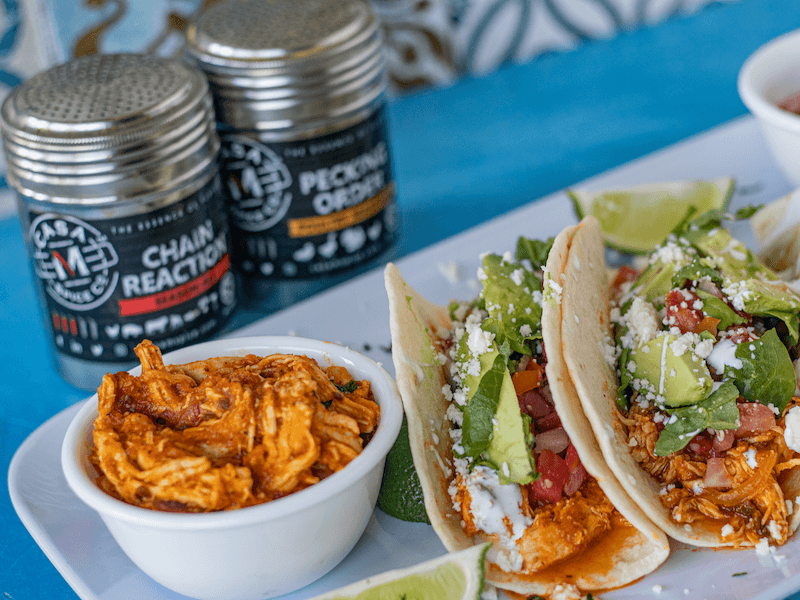 Chicken Tinga Tacos
As always, from our table to yours... #SpiceConfidently #EssenceOfFlavor #ChemistryInTheKitchen #CasaMSpice
ingredients
For the Tacos:
3 large chicken breasts
12 flour tortillas, taco sized
3 Roma tomatoes, chopped
1 medium yellow onion, cut in half, peeled, keep one half intact and second half cut into thin slices
2 garlic cloves, whole
2 bay leaves
1/4 of a 7.5-oz can of chipotles in adobo (more to to taste as desired)
2 Tablespoons corn/canola oil
1 Tablespoon Casa M Spice Co® Pecking Order®
1 teaspoon Casa M Spice Co® Chain Reaction®
1 teaspoon Casa M Spice Co® Pecking Order® (for tinga sauce)
top with shredded lettuce, sour cream, queso fresco, avocado, salsa(s), pico de gallo, etc.
LET'S GET COOKING
1.

In a large pot add 5 cups water. Turn stove on, on high heat.

2.

Add 2 garlic cloves, skin off. Half a yellow onion and two bay leaves, Casa M Spice Co® Pecking Order® and Chain Reaction®, cover, and bring to a boil.

3.

Once it is boiling, add the chicken breasts and cook for 20 minutes or until cooked through.

4.

Remove chicken breasts from pot and set aside. Allow to cool.

5.

Add Roma tomatoes to the pot chicken was just cooking in. Cook for 5 minutes.

6.

After 5 minutes, add the half onion, tomatoes, garlic cloves, and 3/4 cup of the broth into a blender. Discard bay leaves.

7.

Add 1 teaspoon Casa M Spice Co® Pecking Order® into the blender as well as the chipotles in adobo. Blend for about 30 seconds or until completely smooth.

8.

Chicken breasts should be cool enough now. Shred them as finely as possible.

9.

In a large skillet, add oil over medium high heat. Once hot, add the sliced onions. Cook for a about a minute. Add the Tinga sauce you just made in your blender. Stir and bring to a boil.

10.

Add the shredded chicken and mix in well. Once completely heated through you can assemble your tacos with your desired toppings and enjoy!