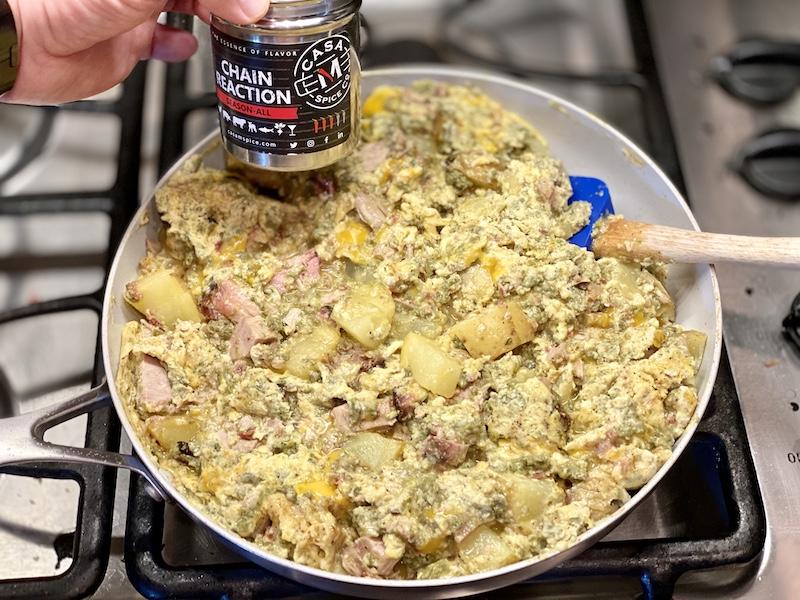 Eggs with Green Chorizo and Potatoes
Ever since Manny and I discovered chorizo verde we've been enjoying it for breakfast at least twice a week. Just a warning in advance, it's very highly addictive. You'll get a feel for the flavors when you make the chorizo, but nothing compares to the fragrance once you start to fry it up. It was Manny who advised me that breakfast burritos/tacos with chorizo and eggs needed potatoes too (and boy was he right), and he also taught me that this combo makes a perfect pairing with coffee (and again he was absolutely correct). Something in the combination really compliments each other. At this point we're up to making 30+ pounds of green chorizo at a time and freezing in 1 pound bags for easy use all the time.
This recipe is very versatile and can accommodate a lot of added ingredients as available or desired. If you look closely in the photos, you can see we had some leftover smoked pulled pork that we added to the scramble, so tinker with the ingredients and get the right mix for you. The potatoes add a lot to the equation here. It's hard to explain why, but they add texture as well as flavor. Parmesan cheese should be fresh (refrigerated) not the dessicated stuff that doesn't need to be refrigerated. With the green chorizo in the mix, there's no shortage of flavor in these eggs, but feel free to top with fresh salsa of your choice.
As always, from our table to yours... #SpiceConfidently #EssenceOfFlavor #ChemistryInTheKitchen #CasaMSpice


— Mike Hernandez
ingredients
For the Scramble:
1 pound of green chorizo
12 eggs
1/4 cup Parmesan cheese, freshly grated
1/4 cup Cheddar cheese, grated
2 medium-sized potatoes, scrubbed, not peeled
1 teaspoon Casa M Spice Co® Chain Reaction®
1/2 teaspoon black pepper
8 flour tortillas, taco sized
3 Tablespoons sour cream
FEATURED QUOTE
This recipe is very versatile and can accommodate a lot of added ingredients as available or desired.
- Mike Hernandez
LET'S GET COOKING
1.

Stab each of the potatoes with a fork, then cook them in the microwave (or any method of your choice). In our microwave, it took 6 minutes to cook them.

2.

While the potatoes are cooking, break the eggs into a big bowl, scramble them, then add the cheeses and spices. Mix everything well.

3.

In a large skillet over medium-high heat add the green chorizo (click the link to get to that recipe) and fry it up as you would regular breakfast sausage.

4.

Remove your potatoes from the microwave and cut them into bite-sized pieces.

5.

Reduce the heat to medium then add the beaten eggs, cheeses, and seasonings.

6.

Stir frequently to ensure even cooking. The mixture will start to set like a friatta when it's finished. Right at the front end of that, turn off the heat and move the pan off the hot burner. Continue to "flip" the eggs until the bottom of the pan cools.

7.

Heat your tortillas (if you have a gas burner stove, just a couple seconds on each side).

8.

Spread a teaspoon of sour cream on the warmed tortilla, then add some of the scramble to it and eat them like breakfast tacos.