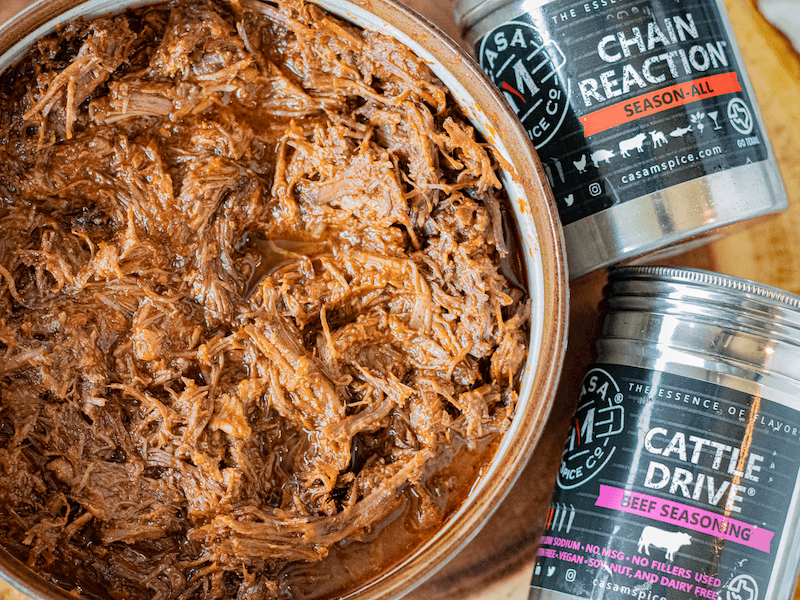 Instant Pot Beef Birria
As always, from our table to yours... #SpiceConfidently #EssenceOfFlavor #ChemistryInTheKitchen #CasaMSpice


— Mike Hernandez
ingredients
For the Birria:
2 Tablespoons coconut oil
6 pounds boneless chuck roast, cut into chunks, fat removed
1/4 cup flour, all-purpose
1 large yellow onion, peeled, quartered
1 head garlic, peeled
4 guajillo chiles, stemmed, seeded
4 ancho chiles, stemmed, seeded
1 Tablespoon whole black peppercorns
1 cinnamon stick
1 Tablespoon dried oregano
1 Tablespoon Casa M Spice Co® Chain Reaction®
1 Tablespoon Casa M Spice Co® Cattle Drive®
1 teaspoon ground cumin
1 7 oz can chipotle chiles in adobo
1 28 oz can pureed tomatoes
3 bay leaves
2 Tablespoons apple cider vinegar
4 cups beef broth
LET'S GET COOKING
1.

Add the beef to a large mixing bowl. Sprinkle the beef with the flour and toss to evenly coat the beef.

2.

Turn the Instant Pot to Sauté mode and when it comes to temperature, add the oil. When the oil is hot, add a few pieces of meat at a time browning them, then removing them to a plate to brown the rest until you have browned all sides of all the beef. Be careful not to over-crowd or the pot will lose heat and browning will take much longer.

3.

In a skillet, dry toast the chiles, black peppercorns, and cinnamon stick over medium heat. Turn them often and once they smell fragrant, they are toasted. 1-2 minutes.

4.

Set the Instant Pot back to Sauté mode. Once it's hot add these toasted items, onion, garlic, and oregano to the Instant Pot, then add enough water to just cover these ingredients, cover VENTING, and let cook on Sauté for about 15 minutes VENTING steam. Turn off the Instant Pot and let it vent entirely before opening.

5.

Pour the contents through a strainer. Discard the cinnamon stick. Save 1 cup of the liquid.

6.

Move the solids from step 5 into a blender. Add the chipotles in adobo, tomatoes, cumin, the Casa M Spice Co® blends, and the reserved liquid from step 5. Blend well until the mixture is very smooth.

7.

To the bowl of the Instant Pot add the meat, the sauce you just blended up, the bay leaves, apple cider vinegar, and beef broth. Lock the lid (closed and not venting) and set it to Pressure Cook (High Pressure). Cook for 60 minutes and let it cool and vent completely.

8.

Remove the meat from the pot to a baking sheet and let cook enough to handle, then shred with a fork, and serve immediately with tortillas.