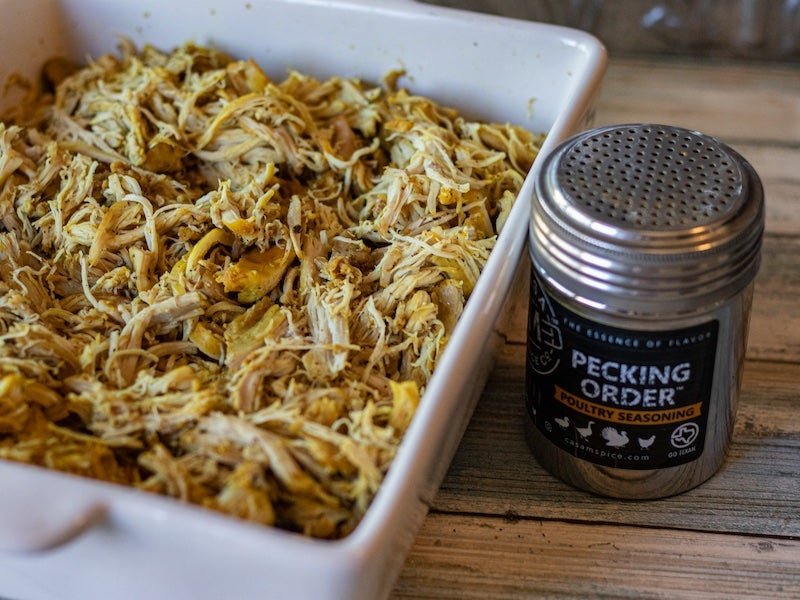 Instant Pot Pulled Chicken
As always, from our table to yours... #SpiceConfidently #EssenceOfFlavor #ChemistryInTheKitchen #CasaMSpice
ingredients
For the Chicken:
4 pounds chicken thighs, boneless, skinless
1 teaspoon salt
3 Tablespoons Casa M Spice Co® Pecking Order®
2 teaspoons olive oil
1/2 cup water or chicken/vegetable broth
LET'S GET COOKING
1.

In a large mixing bowl, add the thighs, the salt, and the Casa M Spice Co® Pecking Order and mix well to season the chicken well.

2.

Add the olive oil to the bowl of the Instant Pot and set up the Instant Pot to "Sautée" or "Sear", then add the chicken in batches to keep it to one single layer and cook until the chicken thighs are browned. Once all the thighs are browned, return them to the bowl, add the water, and seal the Instant Pot.

3.

Set the Instant Pot to Pressure Cook for 1 hour and start.

4.

Allow the Instant Pot to cool down, then using whatever mechanism your Instant Pot has, slowly and carefully release the pressure by venting and then open the Instant Pot.

5.

Remove the chicken to a mixing bowl and shred. This chicken is fantastic in tacos, enchiladas, tamales, soups, etc.

6.

If you don't have an Instant Pot, this is easy to do in any slow cooker as well, just cook on Slow Cook High for 4 hours.

7.

Save the chicken broth for future use anywhere you need chicken stock.