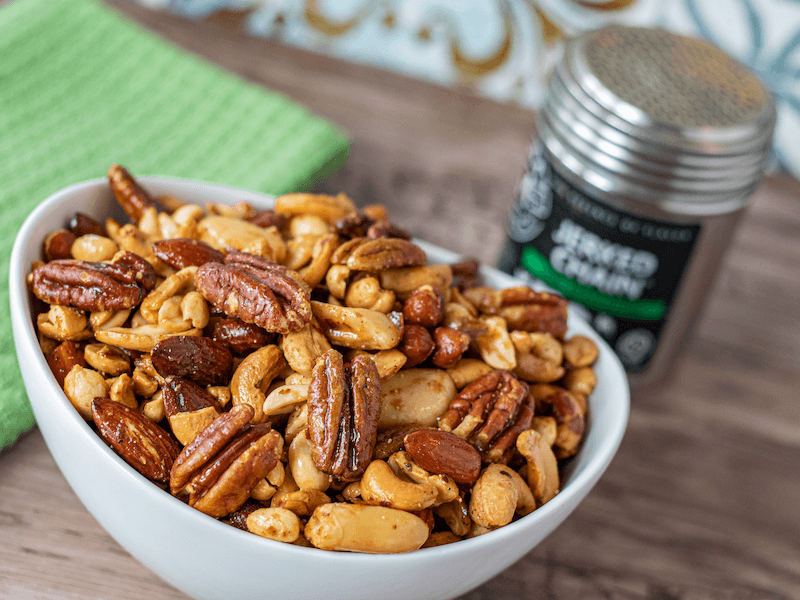 Jerked Roasted Mixed Nuts
As always, from our table to yours... #SpiceConfidently #EssenceOfFlavor #ChemistryInTheKitchen #CasaMSpice


— Mike Hernandez
ingredients
For the Mixed Nuts:
4 Tablespoons butter, unsalted
4 Tablespoons honey
1-1/2 Tablespoons Casa M Spice Co® Jerked Chain®
2 pounds mixed nuts
LET'S GET COOKING
1.

Preheat oven to 300°F.

2.

Place the butter, honey, and Casa M Spice Co® Jerked Chain in a small saucepan. Heat over medium heat until melted.

3.

In a bowl, place the mixed nuts. Add the butter mixture and stir well. Make sure to coat evenly.

4.

Roast the nuts spread evenly on a baking pan until golden, about 30 minutes, stirring every 10 minutes.

5.

Finish with a little sprinkle of Casa M Spice Co® Chain Reaction®, if desired. Allow to cool and crisp up, about 20 minutes and enjoy.