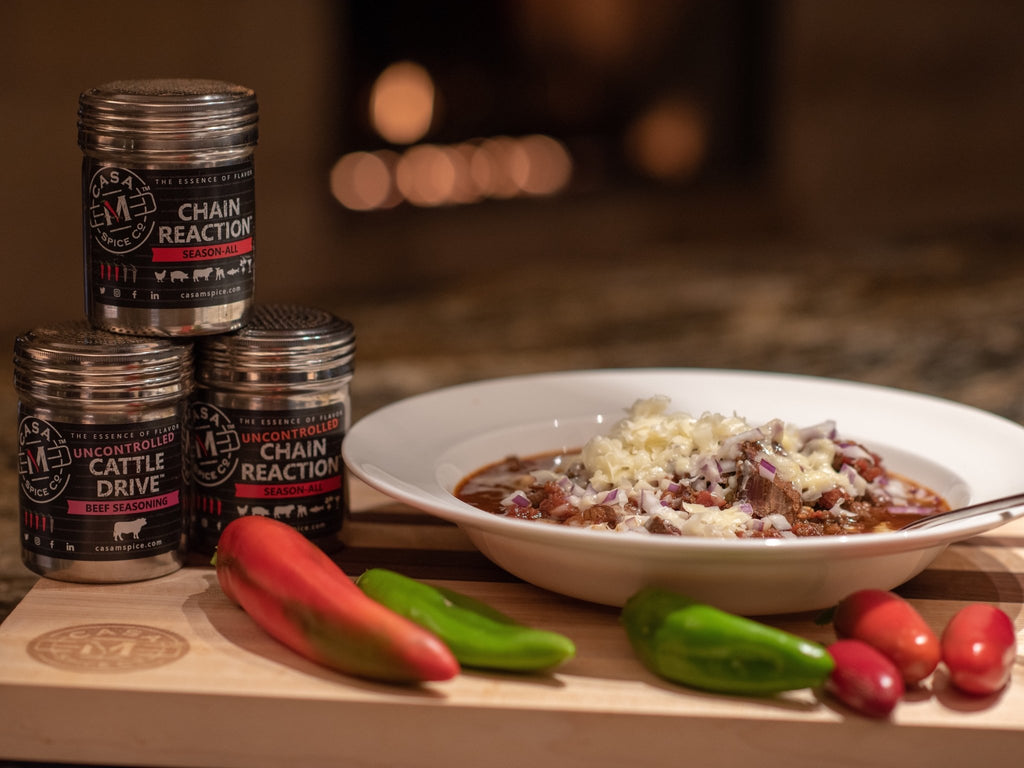 Leftover Brisket Texas Chili
Here at Casa M Spice Co™ we are big fans of chili — from all regions to be honest. As you already know, we're also huge fans of beef brisket. On the rare occasion there are leftovers from a brisket, one of our favorite ways to put that to good use is in our Texas Chili recipe. This recipe is a basic Texas Chili that you can add to as you'd like. If you want more heat, add more Uncontrolled Chain Reaction™ or some crushed red pepper flakes. If you like more of a steakhouse flavor with the ground bison, add more Cattle Drive™. The most important facet of this recipe is giving it time to simmer so that all the flavors have time to develop and blend together. Allow a good 3-4 hours of simmer time in a cast iron pot (to reduce the risk of scorching on the bottom of the pan). Now, while this isn't a Texas thing to do and I have to admit I brought this with me from when I was living in Ohio, garnishing with chopped onions, shreded cheese, beans (I know, gasp, blasphemy to Texans), sour cream, and we even do black olive slices sometimes. The most important thing is that you serve it up with a heaping helping of enjoyment with friends and family at the table. #SpiceConfidently #EssenceOfFlavor #CasaMSpice

— Dr. Mike Hernandez
ingredients
FOR THE CHILI
2 Tablespoon Casa M Spice Co™ Cattle Drive™ or Uncontrolled Cattle Drive™
2 Tablespoon Casa M Spice Co™ Chain Reaction™
1-2 Tablespoons Casa M Spice Co™ Uncontrolled Chain Reaction™ (to taste for heat)
1 pound bacon, cut into small pieces
2 pounds of leftover brisket, cut into bite-sized pieces (bark and fat included)
4 Tablespoons ground cumin
4 Tablespoons ground ancho chile
1 large sweet onion, peeled and diced
1 head of garlic cloves, peeled and minced
4 14.5 oz cans of fire roasted diced tomatoes
4 cups beef broth
FOR THE TOPPINGS
Diced Sweet Onion
Grated Cheddar Cheese
Sour Cream
Chili Beans (i.e. Kidney, Pinto, Vaquero, Rio Zape, etc.
FEATURED QUOTE
The most important facet of this recipe is giving it time to simmer so that all the flavors have time to develop and blend together. Allow a good 3-4 hours of simmer time in a cast iron pot.
- Mike Hernandez
LET'S GET COOKING
1.

Add bacon into a large, thick bottomed, cast iron pot and brown it over medium-high heat.

2.

Once the bacon is browned, add the garlic and onions and let them sautee until the onions start to become translucent and the garlic is fragrant.

3.

Add the broth, tomatoes, seasonings, and brisket to the pot, stir well, and bring to a boil then reduce heat to a simmer.

4.

Once the pot is simmering, cover the pot and let it simmer for 4-6 hours stirring every hour or so.

5.

Taste the chili about an hour before you plan to serve it and adjust seasoning to taste. More Uncontrolled Chain Reaction® will bump the heat up a bit, more Cattle Drive® will add black pepper. More Chain Reaction® will adjust the salt flavor.

6.

You can adjust the consistency at this point too. If you want it thicker, leave the top off the pot for the last hour. If you want it thinner, add a little more water and re-adjust seasonings.

7.

Serve over cooked white rice and garnish as desired.