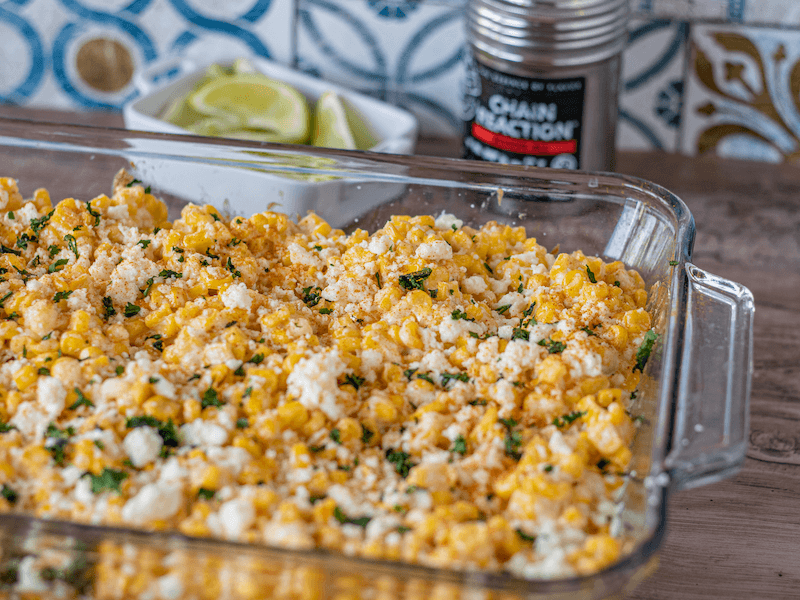 Mexican Street Corn Casserole
As always, from our table to yours... #SpiceConfidently #EssenceOfFlavor #ChemistryInTheKitchen #CasaMSpice


— Mike Hernandez
ingredients
For the Casserole:
40 oz corn kernels
2/3 cup mayonnaise
2/3 cup sour cream
1-1/2 teaspoons chili powder
1-1/2 teaspoons Casa M Spice Co® Chain Reaction®
1-1/2 teaspoons Casa M Spice Co® Cattle Drive®
6 oz queso fresco, crumbled, divided
3 Tablespoons cilantro, chopped
fresh limes and additional Chain Reaction® for garnish (optional)
LET'S GET COOKING
1.

Preheat the oven to 350°F. Grease a 13" x 9" roasting pan.

2.

Add the corn, mayonnaise, sour cream, chili powder, Casa M Spice Co® blends, and 3 oz of the queso fresco into a large bowl.

3.

Pour the contents of the bowl into the greased roasting pan.

4.

Bake for 45 minutes or until it's heated through and the cheese is bubbly on the edges.

5.

Remove from the oven and top with the remaining cheese, cilantro, and a dusting of Chain Reaction®. Serve immediately.