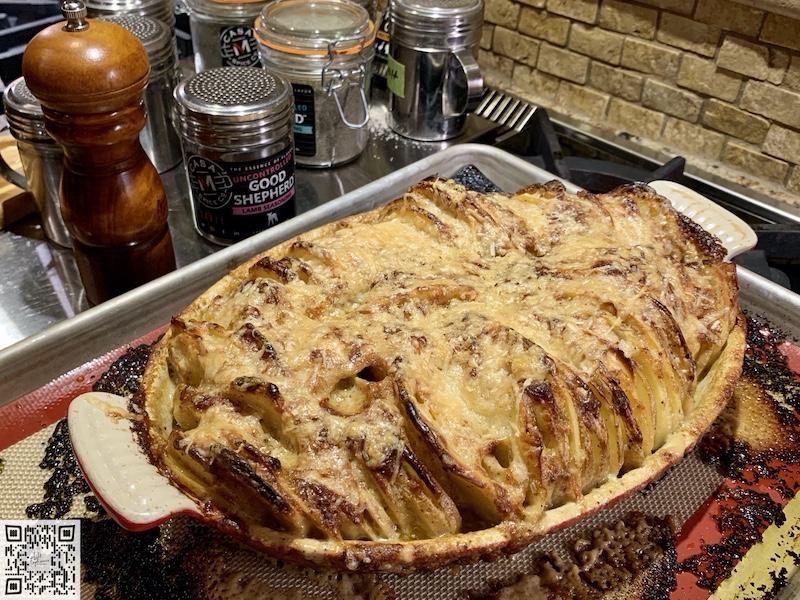 Scalloped Potatoes Au Gratin
It's no secret that Manny and I are both big fans of potatoes. In just about any form, to be honest, but during our travels, we are always amazed at how Europe, broadly, and more specifically Eastern European countries can make the simple spud into something miraculous at every meal. Particularly when paired with pork, but that's another story for another recipe. This recipe tackles one of the classic French preparations for potatoes. One that is so often mistreated, misunderstood, and so often comes out either too bland or too dry. We are, of course, talking about gratin de pommes à la dauphinoise, or put more simply scalloped potatoes au gratin. The secret to this rich, decadent preparation is in understanding that until they invent a low calorie potato the dish simply cannot be made properly as a "low calorie" side, and in embracing the ingredients fully. I mean, we're already talking about potatoes, why skimp on the things that matter and lend it their decadence; full, heavy whipping cream and good quality cheeses. The nirvana of simply the mixed cheeses, seasonings, and cream with a little black pepper to taste will have you fighting over who gets to lick the spoon at the end. Trust me, Manny and I already did! What I really like most about this dish is that it gives us a chance to showcase the flavor profiles of our Good Shepherd® blend on something other than lamb, and boy does it ever steal the show here.
Getting real, the dangerous part of this dish, and the one to which you must pay the most attention, is the slicing of the potatoes. While it's possible to do this part without the help of a good mandolin, they're cheap and really worth the money. Having all the potatoes the same thickness means they will cook uniformly and using the protective slide feature on the mandolin correctly means you won't need to be rushed to the ER to re-attach your fingers. Once the potatoes are sliced, the recipe really is only 3 steps. Combine the cheeses, cream, garlic, and seasonings, slather your potatoes in the mix, and bake. So pay attention to the cutting stage and be prepared to really WOW your guests with your ninja potato skills.
As always, from our table to yours... #SpiceConfidently #EssenceOfFlavor #ChemistryInTheKitchen #CasaMSpice


— Mike Hernandez
ingredients
For the Scalloped Potatoes Au Gratin:
3 Pounds russet potatoes, scrubbed and sliced 1/8" thick on a mandolin
5 Cloves garlic, minced
1 Pint heavy cream
1 Tablespoon Casa M Spice Co® Chain Reaction®
1 Tablespoon Casa M Spice Co® Uncontrolled Good Shepherd®
Black pepper to taste
Nutmeg to taste
4 Ounces Gruyère cheese, grated
4 Ounces Parmesan cheese, grated
4 Tablespoons butter, brought to room temperature
FEATURED QUOTE
What I really like most about this dish is that it gives us a chance to showcase the flavor profiles of our Good Shepherd® blend on something other than lamb, and boy does it ever steal the show here.
- Mike Hernandez
LET'S GET COOKING
1.

Preheat oven to 400°F with a rack in the middle. Prepare a cookie sheet with either parchment paper or silicone baking mat.

2.

In a large mixing bowl, combine the cheeses and both Casa M Spice Co® seasonings, then mix well. Reserve 1/3 of this mixture and set aside.

3.

Add cream and garlic to the bowl. Season generously with black pepper and a touch of freshly ground nutmeg to taste (and we do encourage you to taste this mix here and now... Manny and I fought each other over who got to lick the spoon and bowl once we were done this was so good).

4.

Once your seasonings are adjusted to taste, add the potato slices and toss them gently with your hands until every slice is coated with the cream mixture. If yours is like ours, some potato slices will stick together. Make sure to separate any slices that are sticking together to get the cream mixture in between all of them.

5.

Generously slather and grease an au gratin or other baking dish with butter.

6.

Using your hands again, grab some potatoes and stack them as if you were putting the slices back together into a whole potato, only here size isn't important, just stack them together and put them into the baking dish standing vertically. Continue with more potatoes and squeeze them in tightly. If you have too much room, add additional potato slices until you're packed full. You should have plenty of cream mixture to coat additional pieces if needed. If you can't fit them all in, grab another dish and grease it up and throw the leftovers in there... standing vertically or not, trust us, you won't want to waste a single piece here.

7.

Pour leftover cream mixture into the baking dish full of potatoes. In our au gratin dish, we filled up to about 1/2 the height of the dish. Place the dish onto the prepared cookie sheet (see the photos and video, it's highly likely there will be overflow and the cookie sheet catches that for you). Now is the time to fight for any leftover cream/cheese mix as well as the bowl and mixing spoon(s).

8.

Cover the dish(es) tightly with foil and put into the preheated oven. Bake for 30 minutes, then remove the foil and continue to bake until the top is lightly golden brown (roughly another 30 minutes).

9.

Remove the dish(es) from the oven and add the reserved cheese/seasoning mix to the top. Do not cover. Return to the oven and continue to bake until the top is deep golden brown and crisp (see the movie clip). This is about 30 more minutes, but depends on the individual oven. We switched to convection when we added the reserved cheese and watched carefully until it was finished and ready to pull from the oven.

10.

Remove from the oven, let rest briefly, serve and eat while hot.