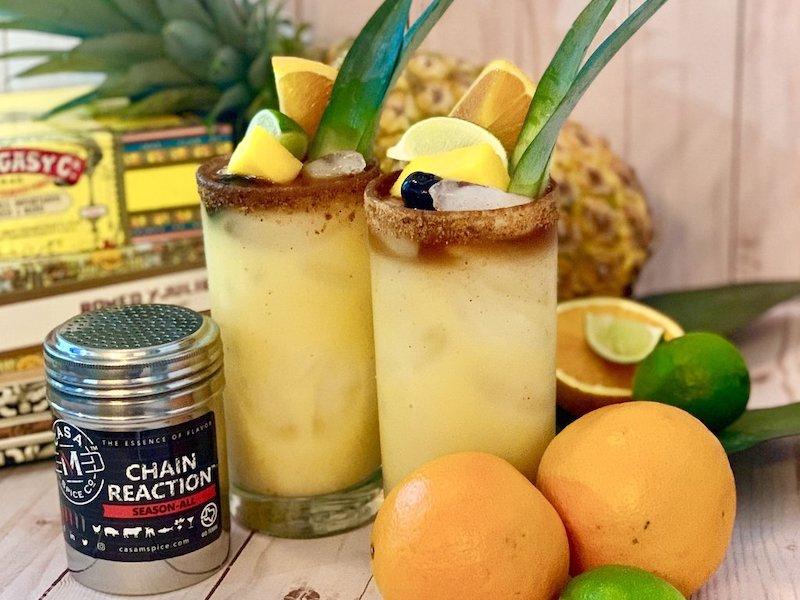 Spicy Pineapple Punch
In the middle of a Texas summer the only thing that beats the heat, is well… MORE HEAT! We live for spice, and summer nights call for an easy and unique tropical cocktail. You can make individual servings of this punch, or make it in a large batch and serve it in a pitcher.
Pro-Tip: If you want a bit more flare to your cocktail, toast some coconut flakes in a sauté pan over medium heat until the edges start to turn golden brown. Add a generous shake of Casa M Spice Chain Reaction Season All to the pan and remove from the heat. Add the kicked-up coconut to the top of your drink, or sprinkle over some additional fresh fruit for a quick snack! This drink will cool you off while tantilizing your taste buds with some great tropical flavors. As always, from our table to yours... #SpiceConfidently #EssenceOfFlavor #ChemistryInTheKitchen #CasaMSpice
ingredients
FOR THE DRINK
2 fluid ounces pineapple juice
2 fluid ounces coconut milk
2 fluid ounces orange juice
2 fluid ounces coconut rum
1 fluid ounce dark rum
FOR THE GLASS AND GARNISH
1 saucer with lime juice
1 saucer with Casa M Spice Co® Uncontrolled Chain Reaction® (or Chain Reaction® if you prefer a little less heat)
mango, orange, lime, banana, and/or pineapple, cold and sliced
juice from one slice of lime
FEATURED QUOTE
To kick this up a notch, make the spicy toasted coconut to use as a garnish following the "Pro Tip" in the headnotes. You and your guests will be addicted from the first nibble.
- Mike Hernandez
LET'S GET COOKING
1.

Juice your lime(s) for your saucer you will use to rim the glass.

2.

Shake a layer of Casa M Spice Co® Uncontrolled Chain Reaction® or Chain Reaction® onto your second saucer.

3.

Turn the glass upside down, dip it into the lime juice and then directly (keeping it upside down) into the Uncontrolled Chain Reaction® or Chain Reaction® and set aside to dry briefly.

4.

Slice your fruit garnishes and the slice of lime you will use to float some lime juice on the top of the drink.

5.

Fill the glass with ice.

6.

in a cocktail shaker full of ice add the juices, coconut milk, and coconut rum (reserving the dark rum to float on top) and shake to mix.

7.

Strain the contents of the shaker into your ice-filled glass.

8.

Finish the drink by floating the dark rum on top along with a squeeze of lime juice, then garnish the drink with garnishes of your choosing.

9.

Serve, toast, and drink up (responsibly, of course)!