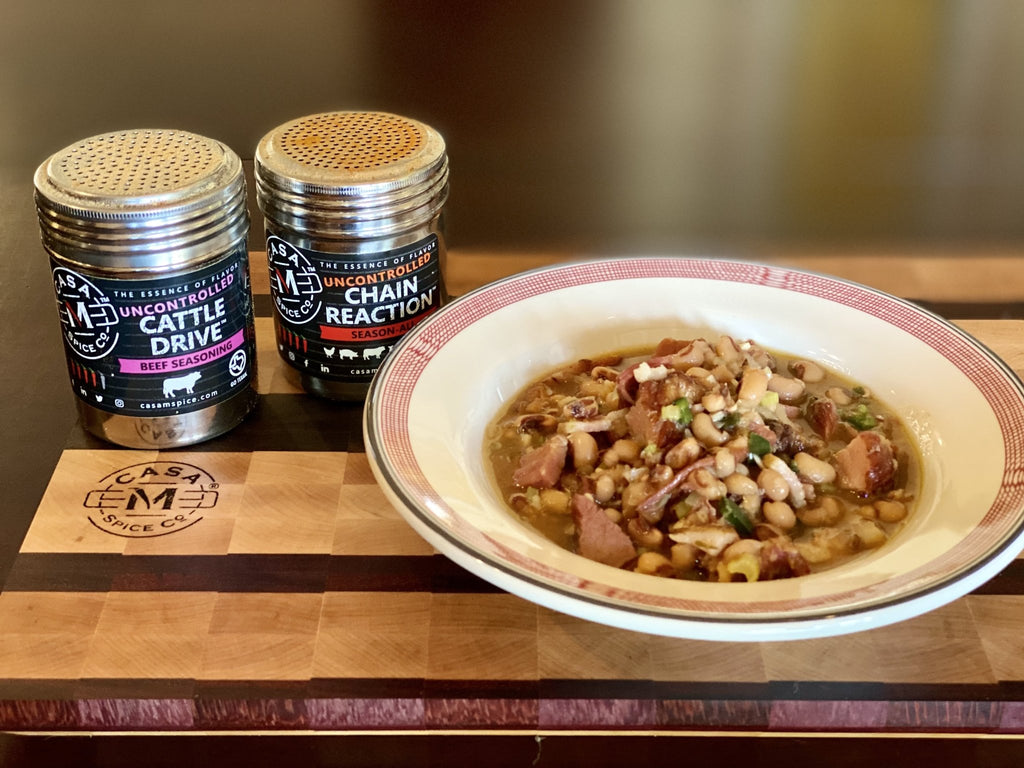 Black Eyed Peas and Rice
Black Eyed Peas have been a New Years "good luck" meal forever. They're delicious, easy to make, and something you should definitely have in your rotation any time you have a ham on the menu to use up leftover ham as well as the bone or hock. The beauty of this dish is that since it has ham in it, it can be either a main dish with rice or a side dish served stand-alone in a bowl or on a plate with the entrée. So many options. So much bold, rich flavor.
I love this InstaPot pressure cooker method. A LOT. That said, it's not require. You can soak your peas overnight and cook them on the stovetop just as easily. Just allow for 2-3 hours on the stove to be safe. This recipe calls for an InstaPot with pressure cooking capabilities, but a proper pressure cooker or even stove top cooking (for longer) works just as well if you have the time. The depth of this pot of beans can be greatly enhanced if you have a leftover ham bone or hock that you can use to make stock. Again, it's not required, but definitely adds to the richness and depth of flavors. Pick a smoked sausage you'd enjoy on the grill with good smoke flavor. Same for the bacon; strong smoke flavor. We use more Uncontrolled Chain Reaction® than the recipe calls for to bump the heat level just a bit. You can control the end consistency of this dish by letting it simmer a little longer on the stove if you want it a little thicker. You can also cheat and mash a few of the peas and mix them back in to thicken it too.
As always, from our table to yours... #SpiceConfidently #EssenceOfFlavor #ChemistryInTheKitchen #CasaMSpice


— Mike Hernandez
ingredients
For the Peas:
1 pound dry black eyed peas
1 pound smoked ham, cut into bite-sized pieces
6 cups ham or chicken broth
1 Tablespoons Casa M Spice Co® Uncontrolled Chain Reaction®
1 Tablespoons Casa M Spice Co® Uncontolled Cattle Drive®
1 bay leaf
For the Cajun Trinity:
12 ounces bacon, cut into very small pieces
1 large white onion, diced
1 cup celery, diced
2 poblano chiles, stemmed, seeded, cut into strips, diced
8 cloves garlic, minced
Pulling It All Together:
salt and pepper to taste
cooked white rice to serve over
Tabasco sauce
FEATURED QUOTE
This recipe calls for an InstaPot with pressure cooking capabilities, but a regular pressure cooker or even stove top cooking (for longer) works just as well if you have the time.
- Mike Hernandez
LET'S GET COOKING
1.

Put the peas into a bowl and cover with water. Let soak for an hour. Drain the water and add to an InstaPot with pressure cooking capabilities or a pressure cooker.

2.

Add the bacon to a 5 quart thick-bottomed soup pot over high heat. Brown the bacon well. Reduce the heat to medium-high as the bacon browns.

3.

Add the ham, broth, Casa M Spice Co® seasonings, and bay leaf to the InstaPot with the peas, seal it, and bring it to pressure and let it cook for 30 minutes.

4.

Once the 30-minute timer starts on the peas, add the garlic, onion, celery, and poblano chiles to the pot with the bacon and brown them a bit. When the onions start to brown, reduce the heat to low, stirring well every 10 minutes or so and keeping a close eye on them so they don't scorch. This will finish up right as the peas finish up in the InstaPot.

5.

When the peas finish their 30-minute cook time, turn off the heat, safely cool and release the pressure in your cooker and remove the bay leaf (and discard).

6.

Once the pressure cooker is cooled and pressure released, add a Tablespoon of water to the soup pot and use it to get all the caramelized bits off the bottom of the pan. Immediately add the contents of the pressure cooker to the soup pot with the bacon and vegetables.

7.

Mix well and bring to a boil, then reduce the heat to simmer. Taste and adjust seasonings as needed.

8.

Let this simmer for 30-45 minutes, then remove the bay leaves, and serve over white rice with Tabasco sauce on the side.