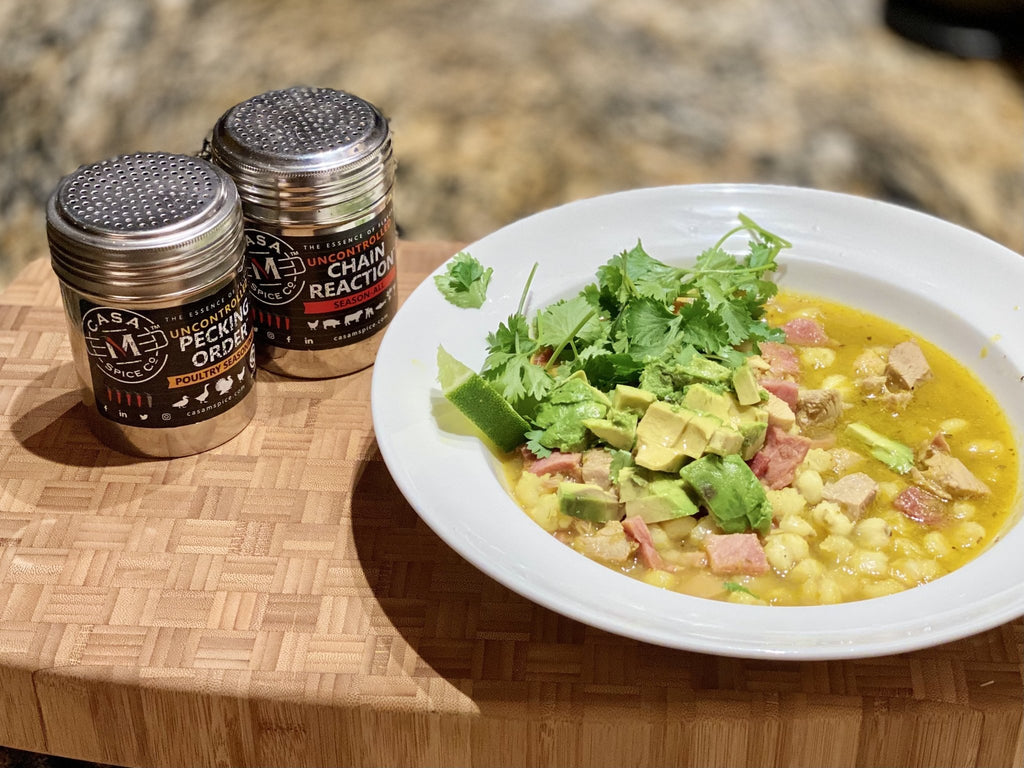 Casa M Pozole Verde
We've already shared the Casa M Pozole Rojo recipe with you, so we thought it would be good to round that out and share the Casa M Pozole Verde recipe too. This one can be approached one of two ways. It's perfection for using up leftovers or you can go the more traditional route and cook your chicken and shred it and put it into the freshly made salsa verde broth. We will talk through both approaches here, but the recipe below will only focus on the leftover route. We happened to have some leftover turkey and hamfrom thanksgiving that we diced up and froze ready to be used in some other dish. We also happened to have a lovely leftover ham bone to make stock with. In the event you wanted to start from scratch and not use leftover chicken/turkey and ham, poach the same weight of chicken in a pot of water (creating the chicken broth you'll use for the soup) and shred the chicken once it's done. To replace the ham, start with diced bacon in the soup pot and brown it well to generate the bacon grease you will then cook the salsa verde vegetables in before you combine it with the chicken broth from poaching the chicken.
We start the broth with a ham bone that we had leftover, but if you don't have a ham bone to start with, just use chicken broth as a starting point and skip the broth step. The recipe calls for 64 ounces of pozole. Here in the Southwest of the US, it's easy to find both dried and canned pozole. Either works for this recipe. If you're starting with dried pozole, soak it for 24 hours and cook for at least 3 hours. It should be tender but not mushy. With either canned or freshly prepared remember to drain it well, rinse it well, and proceeed with the recipe. Here we use leftover turkey and ham that we had diced and frozen for later use in a recipe like this. This works just as well for other leftovers. Substitute chicken for turkey, sausage for ham, etc. It will definitely change the flavor profiles, but the salsa verde broth is the overriding flavor in the mix here and will blend well with any of those combinations.
As always, from our table to yours... #SpiceConfidently #EssenceOfFlavor #ChemistryInTheKitchen #CasaMSpice


— Mike Hernandez
ingredients
For the Broth:
For the Salsa Verde:
1-1/2 pound tomatillos, husks removed, washed
1 large sweet onion, quartered
2 poblano chiles, stemmed, seeded, quartered
2 jalapeño chiles, stemmed, seeded, halved
8 cloves garlic
1/2 cup cilantro leaves, firmly packed
1 Tablespoon frehs oregano leaves
1 Tablespoon Casa M Spice Co® Chain Reaction®
1 Tablespoon Casa M Spice Co® Pecking Order®
2 Tablespoons avocado oil
Pulling It All Together:
64 oz cooked or canned white hominy, drained, rinsed
1-1/2 pounds cooked turkey, diced
1-1/2 pounds cooked ham, diced
1 bunch of radishes, washed and trimmed of greens, diced
1/4 head green cabbage, shredded
2 limes, cut into wedges
1 bunch cilantro, leaves plucked
FEATURED QUOTE
The recipe calls for 64 ounces of pozole. Here in the Southwest of the US, it's easy to find both dried and canned pozole. Either works for this recipe.
- Mike Hernandez
LET'S GET COOKING
1.

If you're making the broth from scratch, start early and add the water to a large soup pot along with the ham bone. Bring to a boil, then reduce heat to simmer, cover, and let simmer 5-6 hours. Remove the bone from the broth. You should have about 8 cups of broth leftover after simmering most of the day. If you don't have a ham bone to make the broth or aren't using leftover ham for the recipe, skip this step and just use 8 cups of good quality chicken broth as a starting point.

2.

About 60 minutes before you plan to serve the pozole, add the avocado oil to a thick bottomed pot and heat over medium-high heat.

3.

In a blender or food processor, working in batches, puree all the vegetables adding them to the pot with the avocado oil. Once all the vegetables are in the pot, add the Chain Reaction® and Pecking Order® and cook until the salsa turns a deep green. Ours took about 15 minutes. Turn off the heat.

4.

Add the cooked salsa verde to the broth in the soup pot. Add the oregano and mix well.

5.

Add the diced meats and pozole to the soup pot and mix to combine and bring to a boil.

6.

Reduce the heat to simmer, cover the pot, and let simmer for 30 minutes.

7.

The finished dish should be brothy lilke a soup, not thick. Adjust consistency with a little water or chicken broth as needed.

8.

Serve in a deep bowl with garnishes of radish, cabbage, cilantro, and lime for people to add to the top as desired.