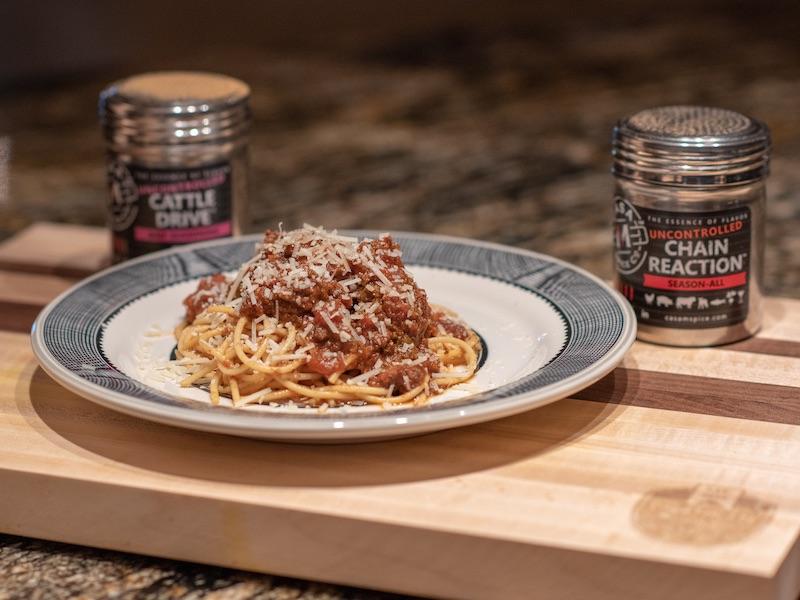 Casa M Slow-Cooked Red Gravy (Pasta Sauce)
Pasta with red sauce is a favorite here at Casa M. We're talking about the Red Gravy that cooks all day long so that the flavors meld together into a nirvana of sauce that is so good, you could easily eat it by itself if need be. This one starts on the stove and finishes off in the oven. The best part about this red gravy recipe is that other than stirring about every 2 hours, it's practically hands-off once you get it into the oven. As with most of our recipes, this one is full of options for adaptation that you can make to personalize the end result. We love the basic approach of this recipe and the flexibility that comes with it. You will note that we do not specify a meat to add to this dish. We typically do Casa M Meatballs (recipe to be shared at a later date), but this go-around, we were lazy and had a leftover Smoked Casa M Meatloaf (again, recipe to be shared at a later date) that we had made the night before with ground beef from our good friends at Texas Craft Wagyu and Manny and I can vouch for the fact that it made for the most delicious tasting plated dish with this red gravy ever. Totally epic. Give this one a try and adapt to make it your own. We promise we don't mind! #SpiceConfidently #EssenceOfFlavor #CasaMSpice

— Mike Hernandez
ingredients
FOR THE GRAVY
112 ounces whole peeled tomatoes, preferably imported D.O.P. San Marzano tomatoes (that's 4 each 28 oz cans), after crushing in step 1 below reserve 3 cups for finishing the sauce.
4 tablespoons olive oil, plus more for finishing
16 ounces portobello mushrooms, diced
16 cloves garlic, minced
2 Tablespoons Casa M Spice Co™ Uncontrolled Chain Reaction™
1 Tablespoon Casa M Spice Co™ Chain Reaction™
1 Tablespoon Casa M Spice Co™ Cattle Drive™
2 Tablespoons fresh oregano, chopped finely
1 medium carrot, broken in half
1 large onion, diced
1 large stem of fresh basil leaves
3/4 cup (total) mixed minced fresh parsley, oregano, thyme, and basil leaves
Casa M Spice Co™ Chain Reaction™ and Cattle Drive™ (for seasoning to taste at the end)
FEATURED QUOTE
The best part about this red gravy recipe is that other than stirring about every 2 hours, it's practically hands-off once you get it into the oven.
- Mike Hernandez
LET'S GET COOKING
1.

Adjust oven rack down to a position that will allow the Dutch Oven to fit comfortably with the lid on and preheat oven to 275°F. Place the tomatoes into a large mixing bowl and crush them by squeezing them in your fingers until pieces no larger than 1/2-inch remain. Transfer 3 cups of crushed tomatoes to a sealed container and reserve in the refrigerator until step 4.

2.

In a large Dutch oven heat olive oil over medium heat. Add mushrooms and onion and cook until they release their liquid and are fragrant, then add garlic and cook, stirring often, until softened and fragrant but not browned. Add Casa M Spice Co™ seasonings and fresh oregano and cook, stirring, until fragrant, about 1 minute. Add tomatoes, carrot, and basil (last), and stir to combine. Bring to a simmer over high heat.

3.

Cover Dutch oven (lid slightly ajar) and transfer to oven. Cook, stirring once every 2 hours, until reduced by about half and darkened to a deep red, ~6 hours (reduce oven temperature if the sauce is bubbling too rapidly or the browned bits begin to turn too dark).

4.

Remove from the oven and discard the carrot halves and basil stem. Add reserved tomatoes to sauce and stir to combine. Taste and season generously with additional Casa M Spice Co™ Chain Reaction™ for salt and Cattle Drive™ for pepper and stir in the minced herbs along with additional olive oil as desired. Serve immediately, or allow to cool at room temperature, transfer to airtight containers, and refrigerate for up to 1 week. Sauce can also be frozen in sealed containers for up to 6 months.