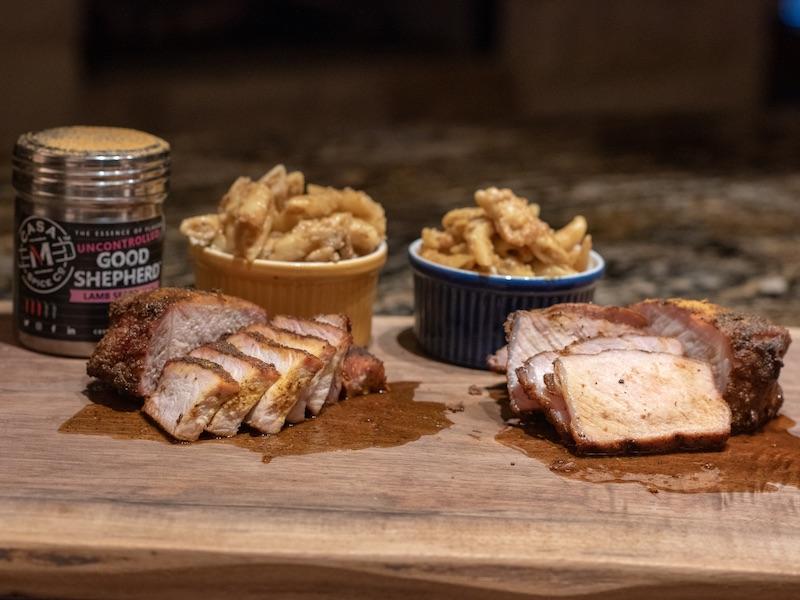 Good Shepherd™ Smoked Pork Chops
It's true! Good Shepherd™ was made with lamb in mind, but as we have (hopefully) all learned, Casa M Spice Co™ blends are versatile enough to pair perfectly with far more than what they were originally designed to compliment. To that end, in this recipe we show off our Good Shepherd™ rub on boneless pork chops. This is one of those super simple recipes that requires very little planning (other than getting good chops to start with). Remember that Good Shepherd™ and Uncontrolled Good Shepherd™ are both very low in salt content, so we salt first, then rub, then smoke, and finally sear on the charbroiler. The end result is a batch of succulent chops with great smoke on them and flavor that you won't believe until you taste it. Casa M Spice CoⓇ has created Good ShepherdⓇ as a seasoning for lamb, but that doesn't mean it can't be used on all of your favorite meats. How about trying Good ShepherdⓇ on boneless pork chops? The blends at Casa M Spice CoⓇ were designed to complement the meats but also be versatile. You can get delicious smoked pork chops with great flavor by using Good ShepherdⓇ. Pick up a pack today and give it a try at your next family barbecue!#SpiceConfidently #EssenceOfFlavor #CasaMSpice

— Mike Hernandez
ingredients
FOR THE CHOPS
Casa M Spice Co™ Good Shepherd™ or Uncontrolled Good Shepherd™
Pink Himalayan Salt (~1/4 teaspoon/pound)
6 1-1/2" to 2" thick pork chops
FEATURED QUOTE
This is one of those super simple recipes that requires very little planning (other than getting good chops to start with).
- Mike Hernandez
LET'S GET COOKING
1.

Preheat your smoker to 160℉.

2.

Salt your chops and rub the salt in.

3.

Sprinkle the chops generously with Good Shepherd™ or Uncontrolled Good Shepherd™ getting the rub on all surfaces.

4.

Place the chops in the smoker and let them take a smoke bath for about 60-90 minutes until their internal temperature reaches 100℉ - 110℉.

5.

Preheat your grill to medium heat (about 400℉ - 450℉).

6.

Transfer the chops from the smoker to the grill. Apply additional Good Shepherd™ or Uncontrolled Good Shepherd™ as desired.

7.

Cook for 5-10 minutes per side (depending on the thickness of your chops) until the internal temperature reads at least 150℉, but no more than 160℉.

8.

Remove the chops to a platter and let them rest for 10 minutes.

9.

Serve and try to be gracious when you get compliments like "These are the best pork chops I've ever had in my whole life!
---