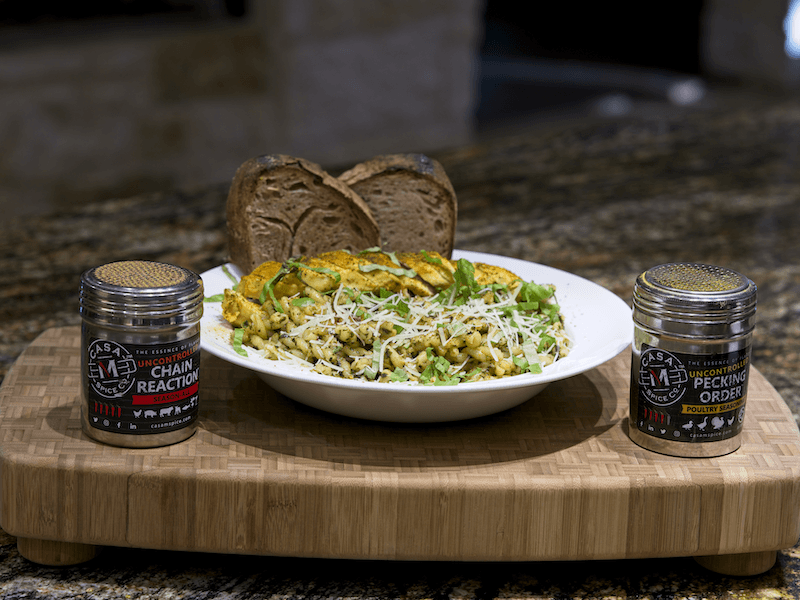 Grilled Chicken Pesto Pasta
While it's true that Manny is of Mexican descent and I'm a mix of Scottish and Irish, I think that love for pasta dishes is pretty much a universal language that transcends origins. While there are several pasta dishes on the weekday dinner rotation here at Casa M, summer is the perfect time to turn fresh basil into freshly prepared Uncontrolled Pesto. Grill up some chicken with our Pecking Order® to top it for a very quick and easy dinner that can fit into anyone's hectic schedule.
We elected to use some modernist techniques for the chicken here (sous vide with a torch to sear the chicken at the end), but we will present both that technique (which is very flexible and quick) as well as traditional grilling for the chicken. Our Pecking Order® is really a great flavor complement to the pesto here. Its earthy flavor with pungent black pepper forward and citrus finish really makes this dish shine. We hope you enjoy it as much as we do and look forward to hearing from you in the comments below.
As always, from our table to yours... #SpiceConfidently #EssenceOfFlavor #ChemistryInTheKitchen #CasaMSpice


— Mike Hernandez
ingredients
For the Pesto Pasta:
1/4 Cup Uncontrolled Pesto
1 Pound pasta
2 Chicken breasts or thighs, boneless, skinless
1 Teaspoon avocado oil
1/4 Cup Parmesan cheese, grated coarsely
1/2 Tablespoon Casa M Spice Co® Uncontrolled Pecking Order®
FEATURED QUOTE
This technique is really quite practical and useful for meal preparation since you can buy big packs of chicken, season them, vacuum seal them, and freeze them for later cooking.
- Mike Hernandez
LET'S GET COOKING
1

Let's address the "elephant in the room" with the cooking technique we used here. Remember, I'm a scientist at heart and bringing lab techniques into the kitchen so we can truly do Chemistry in the Kitchen® puts a big smile on my face. In addition, this technique is really quite practical and useful for meal preparation since you can buy big packs of chicken, season them, individually vacuum seal them, and freeze them for later cooking. When you're ready to cook them, you just throw as many as you need into a preheated water bath at 150F for 2-4 hours (no defrost required), and then sear (either on a grill, under a broiler, or with a blow torch like we do). Not only does it take the guess work out of the final cook temperature, but it is also a background task that doesn't require babysitting, yet you know the final outcome will be perfect.

2.

If you are using a traditional grill: Preheat your grill to medium-high (~400F). While the grill is preheating, put your chicken into a bowl, drizzle with the avocado oil, then salt and generously season with Pecking Order®.

If you are cooking the chicken sous vide: Season your chicken generously with salt and Pecking Order®, then seal, individually, into vacuum bags. Place the pouch into a water circulator preheated to 150F. The chicken needs to cook for 2 hours, but can cook up to 4 hours without affecting the texture of the cooked chicken.

3.

Add water and salt to your pasta pot and put it on to boil. If you're grilling the chicken, put the chicken on to cook once the grill is preheated. Depending on the size of the pieces of chicken they will take about 10 minutes per side. That's about the time it takes to get to a rolling boil for our pasta pot (it's copper, so your mileage may vary here) and as luck would have it, depending on what type of pasta you like, the cook time on pasta is usually somewhere in the neighborhood of 10 minutes too.

4.

For grilling: Once the chicken is cooked to 160F internal temperature, pull it off the grill and let it rest while you finish up the pasta.

For sous vide: After 2 hours in the 150F circulating water, remove and cut open your vacuum pouch (saving any liquid in the pouch), then pat dry with a paper towel, place the chicken on a cookie sheet on your stovetop and turn on the vent. Using a torch, sear the chicken on both sides. Season with Pecking Order after each side is finished searing (i.e. sear first, then season, then flip, then repeat for the other side).

5.

Remove the pasta from the heat, drain it, and then portion it out into pasta serving bowls while still HOT. Add a Tablespoon of Uncontrolled Pesto to each bowl (along with 1/4 of the combined juices from the vacuum pouches if you cooked sous vide) and mix thoroughly.

6.

Slice the chicken into bite-sized pieces and put 1/4 of the chicken into each of the bowls on top of the pesto sauced pasta. Garnish with Parmesan cheese and enjoy.