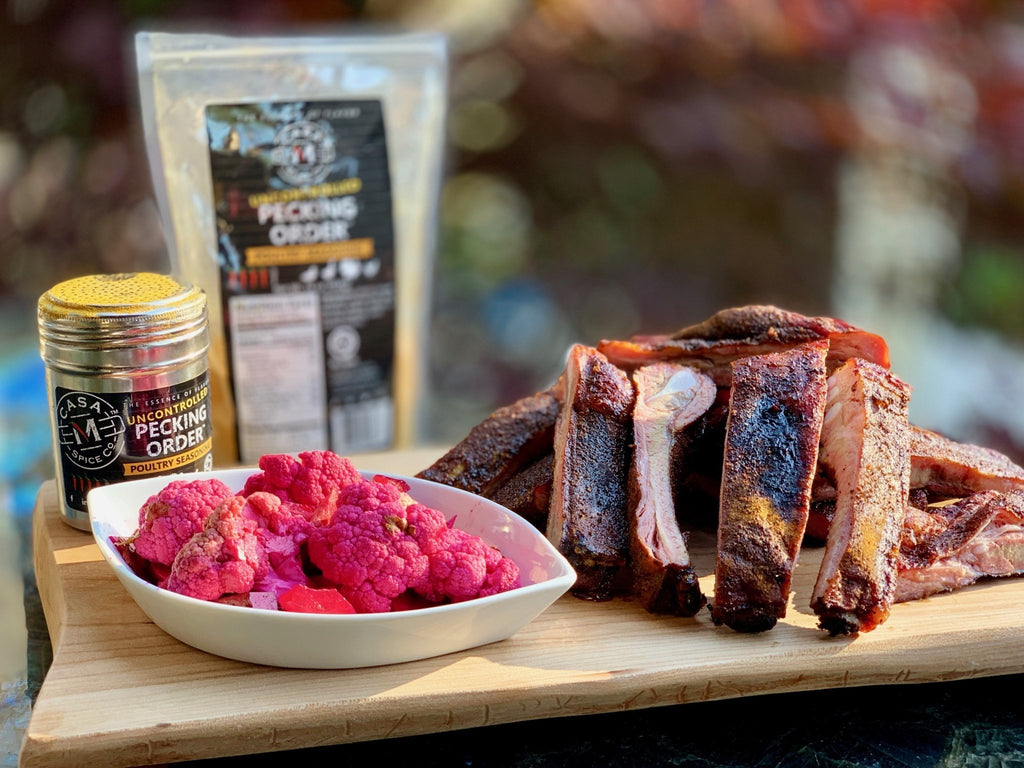 Pecking Order Smoked Ribs
Manny and I have to go on record as saying Pecking Order® is an incredible blend. It was 5+ years in the making getting the flavor profiles right, but that's not why it's so incredible. It took 5+ years because Manny and I love gravy! Gravy, you say? Yes, we designed it for the perfect gravy from the pan drippings off smoked and roasted birds. We wanted the pungent flavors from black pepper, earthiness from turmeric, background flavors of Chain Reaction® (of course), and a finish with notes of citrus. We were very excited when we finished it up, packaged it, and released it at the end of 2018. Then within a month of releasing it, we learned how incredible it REALLY was when we started getting feedback on just how good it was on everything from chicken to beef to pork and lamb.
It was early on that a good friend of ours from the Facebook group Drinkin' and Grillin' pointed out how good Pecking Order was on pork ribs. We had tried it on thick-cut smoked pork chops and knew it paired well with pork, but hadn't thought about ribs since Whole Hog® had always been our "go-to" there, then we tried it, and here we are. This is a simple recipe, but the resulting ribs are a triumph; full of flavor, leading with great black pepper and just the right amount of chile heat in the background. It takes a lot, but if you wait for it, you even get the little citrus finish. These ribs are absolutely something worth writing home about and are sure to get you noticed and compliments galore. As always, from our table to yours... #SpiceConfidently #EssenceOfFlavor #ChemistryInTheKitchen #CasaMSpice

— Mike Hernandez
ingredients
FOR THE RIBS
St. Louis Cut Pork Ribs, trimmed, full racks
FOR RUBBING
Casa M Spice Co® Pecking Order® or Uncontrolled Pecking Order®
salt at about 1/8 - 1/4 teaspoon per pound
FEATURED QUOTE
...test for doneness by picking the rack of ribs up with tongs from the middle. Both ends should remain on the cooking surface, but the middle should /give/ enough to let you lift it 4-6" without falling apart.
- Mike Hernandez
LET'S GET COOKING
1.

Trim the ribs as needed and remove the membrane from the bottom of the rack of ribs using a dry paper towel to get a strong grip on it.

2.

Sprinkle the ribs with salt at about 1/8 teaspoon of table salt per pound of ribs.

3.

Sprinkle Casa M Spice Co® Pecking Order® or Uncontrolled Pecking Order® rub at about 2-3 tablespoons per side for each slab of ribs.

4.

Rub the ribs gently to get the seasonings evenly dispersed and coated. NOTE WELL that the turmeric in this rub will stain EVERYTHING yellow (to incluce your hands, the cutting board, anything it gets onto).

5.

Cover with food film and refrigerate for at least 2 hours up to overnight to dry brine the ribs. Not required, but we use a plastic tub with a lid that seals for this step. Contains the rub while applying and self-sealing too.

6.

Load (we like a mix of hickory, mesquite, and apple) and heat your smoker to 225°F.

7.

Move the ribs into the smoker and cook.

8.

Monitor the ribs closely starting at about 4 hours to test for doneness. This is the hardest part of this recipe — the ribs will be safe to eat, albeit very tough, as long as the temp is above 150°F, but the connective tissues start to break down at around 190-200°F and our target is to hit that range and start to test for doneness by picking the rack of ribs up with tongs from the middle. Both ends should remain on the cooking surface, but the middle should /give/ enough to let you lift it 4-6" without falling apart.

9.

Remove the ribs from the smoke and let them rest for 10 minutes, then cut and serve with your favorite side(s)
---